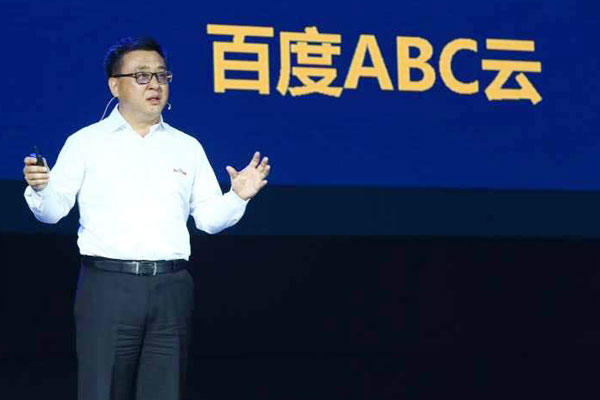 Zhang Yaqin, president of Baidu, makes a speech at the ABC Summit in Beijing on Sept 15, 2017. [Photo provided to chinadaily.com.cn]
China's tech company Baidu has launched ABC Inspire Friday in Beijing, a logo to identify all of its products in artificial intelligence, big data and cloud computing. The announcement was made at the company's annual ABC Summit.
Zhang Yaqin, president of Baidu, said that cloud computing has evolved into the "cloud 2.0 era", which features integration with big data and AI. This is distinct from the "Cloud 1.0 era", mainly about infrastructure building and mass services.
He added this evolution will influence every industry from top to bottom. Everything, from data to information, to industry insight and to decision-making, will be affected.
In addition to the new logo, Baidu also launched an all-in-one, movable machine at the summit for companies in traditional industries including steel, finance and media sectors. The machine will allow the companies to add customized artificial intelligence to their current business.
With this machine, which integrates the tech giant's data storage, data processing and cloud computing capabilities, along with its full-stack solution provider ABC Stack, a company can quickly get a deep learning platform, carry Baidu's AI models and train the company's own deep learning models.
She Guoping, general manager of Shougang Automation and Information Company Ltd, disclosed that the company, a subsidiary of steel giant Shougang Group, has used such a machine to detect inferior products.
The Baidu all-in-one machine predicted that there are 9,714 products up to standard in a 10,000-product sample, said Zhang Fa'en, chief architect of Baidu Cloud demonstrated in real time at the ABC Summit.
Shougang's She later revealed that there are 9,712 such products, based on workers' on-the-spot manual check.
Jerry Xie, a market analyst at the Enterprise Research section with IDC China, told chinadaily.com.cn Baidu has been a step ahead of its peers Alibaba and Tencent in exporting its artificial intelligence technologies and branding its combined capacity in ABC.
"As far as I know, Baidu is the first to announce such a logo in the AI sector and the first to launch such an end-to-end machine, which could be easily used at traditional companies' own places," Xie said.
Externally, this branding move will help Baidu showcase its edge in artificial intelligence and upgrade its previous image as a search engine company. It will help clients have a full picture of what Baidu can do, according to Xie. Internally, this will also help Baidu integrate its own scattered business such as cloud computing and autonomous driving, he added.
"Baidu's all-in-one machine, because of its ability to reduce data leakage risks, may well cater to traditional companies'need to leverage AI, big data and cloud computing to optimize their business," Xie said.
"There is tremendous potential for AI to be used in the traditional sector, but how to release this potential depends on both the supply side and the demand side," Xie said. "It will depend on whether internet companies such as Baidu can supply suitable products and whether the traditional sector is willing to capture these opportunities from new technology."