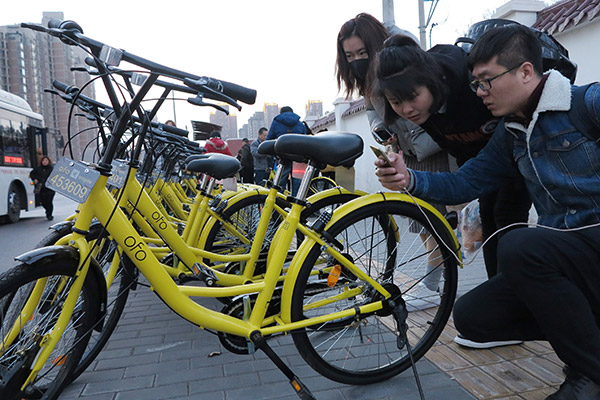 Riders scan ofo bikes in Xi'an, Shaanxi province. [Photo/China Daily]
TIANJIN - Chinese bike-sharing company ofo has launched services in Oxford, after acquiring permission from local authorities, according to a company press release Monday.
The first batch of 100 signature yellow bikes have been placed on the city's streets, and the number is expected to grow according to the need of local customers, said the press release.
An ofo bike ride will cost 50 pence per 30 minutes, with no deposit charged.
The press release cited Joseph Seal-Driver, ofo's operations director in Britain, as saying that Oxford has been actively involved in promoting a sustainable transport system, and ofo can help provide the city with more environmentally-friendly ways of commuting.
In April, ofo completed a trial in Cambridge after which they made upgrades to cater to local needs based on user feedback.
The company said it plans to operate 20 million bikes in 200 cities in 20 countries and regions by the end of 2017.
Ofo, which start operation in 2014, currently has around 8 million shared bikes worldwide and its customers have taken over 3 billion rides in more than 170 cities.
After huge success in the domestic market, Chinese bike-sharing companies are accelerating their steps into the global market.
Ofo has already entered Thailand, Malaysia and the United States. Its major rival Mobike has begun operations in Italy, Singapore and Britain.