Pop icon Robyn Rihanna Fenty has praised Ofo Inc's decision to link up with her Clara Lionel Foundation to improve education in Malawi.
The Chinese bike-sharing behemoth announced the five-year partnership, known as 1KM Action, with the charity, during the summer.
Apart from funding scholarships for hundreds of girls in the African nation, Ofo has donated bikes to help them get to school.
"I'm so happy about the Clara Lionel Foundation's new partnership with Ofo because it will help so many young people around the world receive a quality education," said Rihanna, who has sold more than 50 million albums and won eight Grammy Awards and 12 American Music Awards.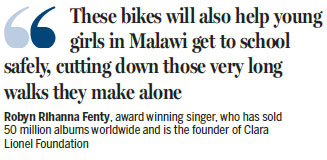 The Beijing-based startup has already delivered the first batch of cycles and aims to send a total of more than 1,000 bikes.
"These cycles will also help young girls in Malawi get to school safely, cutting down those very long walks they make alone," singer Rihanna, 29, added.
While there are about 4.6 million children in primary schools across Malawi, only 8 percent go on to secondary education.
Girls tend to suffer the most because of the long journeys, so the bike scheme will be crucial in helping them move on to the next level.
"We are delighted to work with Rihanna and the Clara Lionel Foundation on this innovative initiative, as we are keen to help improve education for students living in poverty," said Dai Wei, founder and CEO of Ofo.
"We believe in unlocking every corner of the world to equal access to education, as well as with our bike-sharing scheme," he added.
In addition to the program in Malawi, Ofo will also support the foundation's global scholarship strategy.
This will help students in China, Brazil, Barbados, Cuba, Haiti, Grenada, Guyana and Jamaica who have been accepted for a four-year degree course at an accredited college in the United States.
Back in April, Ofo and the United Nations Development Programme joined forces to launch the 1KM Action campaign globally to encourage low-carbon, sustainable and eco-friendly, short-distance bike rides.
The partnership also agreed to provide financial support for innovative projects that address urban environmental challenges.
Ofo is well placed to do just that with 100 million customers and more than 6.5 million bikes in more than 170 cities across eight countries.
The program is expected to reach 100 million people, including school children, with campaign messages about the adverse effects of climate change and ways to reduce CO2 emissions.
As for the Clara Lionel Foundation, it was launched by Rihanna in 2012 and supports education, health and emergency programs, including the Malawi project.
It also aims to improve the quality of life for young people across the globe.
ouyangshijia@chinadaily.com.cn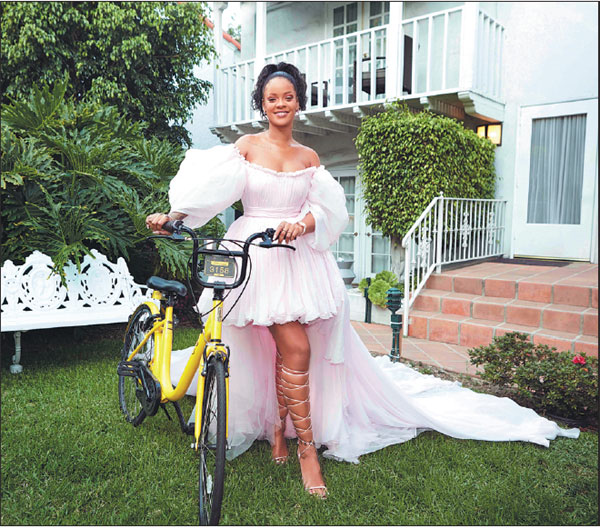 Award-winning singer Rihanna, who has sold 50 million albums worldwide, poses with an Ofo bike.Provided To China Daily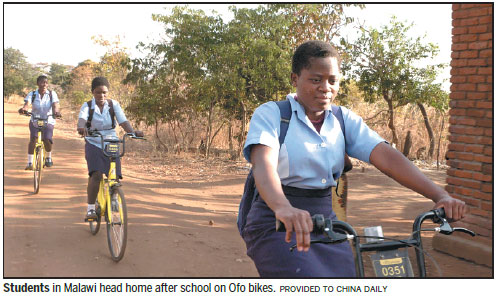 (China Daily 08/17/2017 page18)