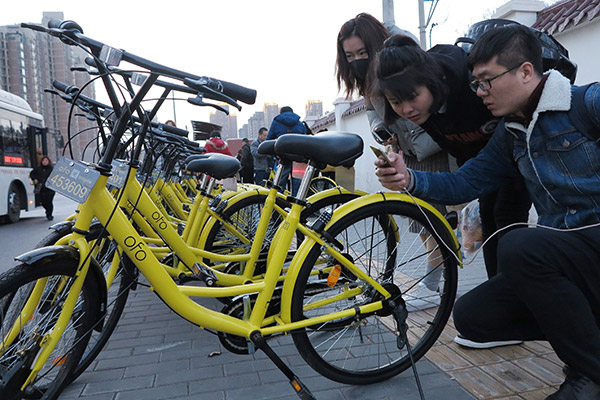 Riders scan ofo bikes in Xi'an, Shaanxi province. [Photo/China Daily]
TIANJIN - China's leading bike-sharing company ofo on Monday announced its expansion into Thailand.
Thailand is the fifth overseas market for ofo, known for its signature yellow bikes, following Singapore, the United States, Britain and Kazakhstan.
A total of 6,000 bikes will be put into use in the capital city of Bangkok from Aug 1, after a successful month-long trial run was earlier completed at a local university.
A ride on an ofo bike will costs 5 baht per 30 minutes, with a deposit of 99 baht.
The bikes will be offered for free for the first three months.
"Thailand has a population of nearly 70 million and traffic jams have become a big headache in cities like Bangkok and Chiang Mai," said Cao Xiao, head of ofo's Asian-Pacific department. "By offering Thailand users a customized service, we hope the transport system in major Thailand cities can be improved with our shared bikes in the near future."
Ofo said it had partnered with electronic payment platform Adyen to allow overseas users access to their services. The company said it planned to enter 20 countries by the end of 2017.
After huge success in the domestic market, Chinese bike-sharing companies are accelerating their steps into the global market. Earlier this month, Mobike announced entrance into Italy, its fourth overseas market following Singapore, Britain and Japan.