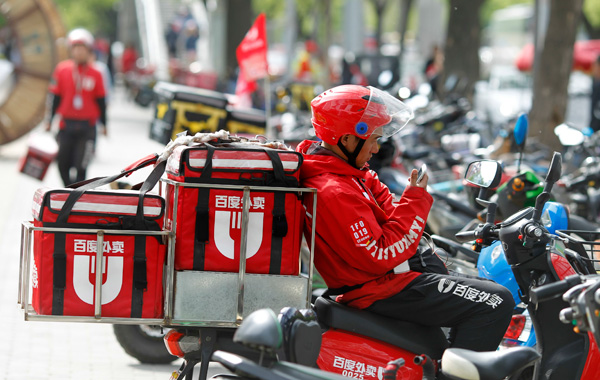 A Baidu Waimai delivery worker receives online food orders on his phone in a street in Beijing. A QING / FOR CHINA DAILY
Baidu Inc is planning to sell its loss-making food delivery unit, Baidu Waimai, at a discounted price to a competitor backed by Alibaba Group Holding Ltd, a person familiar with the matter said.
The business could be sold to Ele.me at a valuation that is less than half the $2.5 billion it was given during its last round of fundraising, said the source who did not want to be identified.
Selling Waimai would put an end to heavy cash losses for Baidu, China's biggest search engine, as it struggles in the competitive on-demand services market and shifts its bets to artificial intelligence, the source added.
A deal would shore up Ele.me's lead in a fiercely competitive industry that depends on scale, while bringing millions of users onto Alibaba's e-commerce and payments network. Ele.me and Baidu declined to comment on queries about a potential sale, which financial magazine Caijing reported earlier.
Caijing said Baidu Waimai and Ele.me have reached a verbal agreement, and if everything goes smoothly, the deal will be announced within two or three weeks.
The development comes two months after media reported that Baidu Waimai was talking with leading delivery company SF Holding Ltd. However, the two sides could not reach a consensus on price and conditions, so negotiations broke down.
Once a key component of Baidu's so-called online-to-offline strategy, Waimai ran up against foes backed by Alibaba and Tencent Holdings Ltd. The deep-pocketed internet giants, who both have market values of at least $370 billion, spent billions on the sector to boost their own popular payments platforms, even as more people turn to smartphones to order takeout and hire cleaners.
"Its strategy in the onlineto-offline business has been less aggressive than before and its current key focus is on the AI-related business," said Marie Sun, a Shenzhen-based analyst at Morningstar Investment Service.
"In the coming times, I don't think Baidu will have aggressive spending on this dying business."
Baidu has more than one online-to-offline operation. Waimai focuses on food delivery but the search company also runs Nuomi, which handles services including movie ticketing and Groupon-like bargains. Sales in the on-demand services sector are expected to reach $230 billion in 2018, according to internet consultant iResearch.
Yang Xu, an analyst at Beijing-based internet consultancy Analysys, agreed the online food delivery sector had not been Baidu's core business since the second half of last year-as Baidu CEO Robin Li put more emphasis on AI.
Yang said the competition in the domestic food delivery sector would be more intense as two giants, Ele.me and the Tencent-backed startup Meituan Dianping, dominate the market.
An Alibaba executive told Caijing that Alibaba plans to take full control of Ele.me, and negotiations are currently underway. In 2015, Alibaba invested $1.25 billion in Ele.me, becoming its largest shareholder with a 27.7 percent stake.