Chinese tech heavyweights and startups alike are scrambling to answer the country's call for greater investment in core artificial intelligence technology after the government rolled out a national plan seeking to lead the world in AI research and application.
Liu Qingfeng, chairman of iFlytek Co Ltd, China's biggest voice recognition company by market share, says the plan, unveiled by the State Council on July 20, draws a clear path for AI's development in China.
"It attaches high importance to scientific research and calls for more efforts to build an open AI system that can help us attract and cultivate talent," Liu says. The company has been devoting 25 percent of its annual revenue to R&D for five years.
"We will beef up resources to help China gain a lead in AI research," Liu adds.
The national plan aims to grow the country's core AI industries to over 150 billion yuan ($22.15 billion; 19 billion euros; £17 billion) by 2020, 400 billion yuan by 2025, and 1 trillion yuan by 2030.
It highlights China's determination to achieve breakthroughs in core AI technologies such as brain science and unmanned systems, and accelerate its application in the manufacturing, services, agriculture and other sectors.
Yang Yuanqing, chairman of Lenovo Group Ltd, says his company will channel $1.2 billion into AI, the internet of things and big data over the next four years to tap into opportunities brought by the cutting-edge technology.
AI is the latest "industrial revolution", akin to the advent of the internal combustion engine, electricity or the internet, and Lenovo will take more steps to support and build a very strong ecosystem, Yang says.
Baidu Inc, the search engine leader in China, said in March it had poured more than 20 billion yuan into AI R&D in the past two-and-a-half years. It is now leading the country's first national lab on deep learning, and is ramping up resources to achieve its plan of mass-producing self-driving cars in several years.
According to a report by consulting firm McKinsey & Co, China is one of the leading global hubs of AI development, with its biggest tech companies driving momentum for R&D. Its vast population and diverse industry mix have the potential to generate huge volumes of data and provide an enormous market, the report says.
In 2015, China and the United States accounted for nearly 10,000 papers on AI published in academic journals, while the United Kingdom, India, Germany and Japan combined to produce only about half as many scholarly research articles, McKinsey adds.
Xu Li, co-founder and CEO of SenseTime, a Beijing-based image recognition startup, says he is very excited about the national AI development plan.
"It gives us a bigger momentum to dig deep into technology and beef up efforts to expand our product line."
Xu says his company raised $410 million from investors earlier this month and will devote much of that to R&D.
masi@chinadaily.com.cn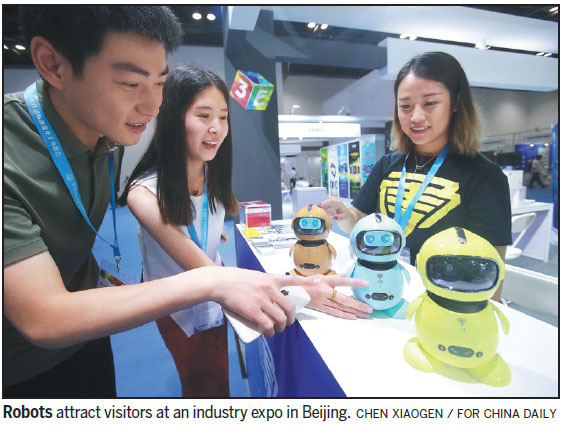 ( China Daily European Weekly 07/28/2017 page25)