Microsoft Corporation and Chinese online search engine titan Baidu announced on July 18 they are teaming up to advance the application of autonomous driving.
As a member of Baidu's Apollo alliance, Microsoft will provide Azure cloud-computing service for its Apollo partners outside China.
According to global consultancy firm McKinsey, up to 15 percent of new cars sold in 2030 will be self-driving cars, which necessitates an ecosystem of partners in the automotive industry to collaborate with each other for a common goal.
Announced in April this year, Baidu's Apollo project is an open-source platform for self-driving cars that any car company can use for free. The project consists of cloud services, a software platform, and reference hardware and vehicle platforms. More than 50 entities have joined the Apollo alliance.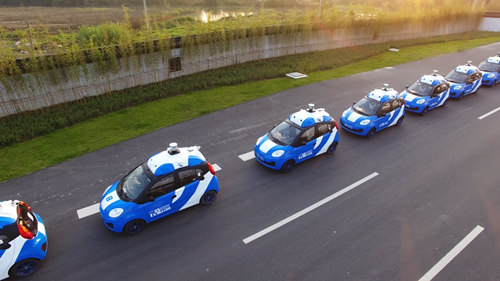 Baidu autonomous cars in a test run. [Photo/Microsoft.com]
Microsoft's corporate vice president Kevin Dallas expressed excitement to partner with Baidu, and believed they are to take a giant step in helping automotive manufacturers and suppliers fully realize the promise of autonomous driving. He added that by applying their global cloud AI, machine learning, and deep neural network capabilities to that data, they can accelerate the work already being done to make autonomous vehicles safer.
"We're excited to have Microsoft as part of the Apollo alliance," said Zhang Yaqin, president of Baidu. "By using Azure, our partners outside of China will have access to a trustworthy and secure public cloud, enabling them to focus on innovation instead of building their own cloud-based infrastructure", he added.
Microsoft and Baidu also plan to seek cooperation in delivering connected vehicle solutions in a bid to digitally transform the autonomous driving industry.