Bank of Beijing (BOB) announced on June 28 it will offer 200 billion yuan ($29.4 billion) to facilitate the financing for startups in Zhongguancun, a technology hub often referred to as China's Silicon Valley, over next three years.
The move is part of BOB's plan to build the "Zhongguancun Investment and Loan Community", which is expected to benefit more than 3,000 tech startups in the zone.
The community consists of financial agencies, key industry leaders and institutional investors as well as innovation-oriented social organizations which collectively help startups grow using their respective expertise.
As the initiator, BOB will explore various financing methods including equity investment, credit loans and debt financing, subject to company's needs.
The Zhongguancun community is set to encourage mass entrepreneurship and innovation in information technology, biomedicine, new energy and cultural creative industries, as well as boost industrial upgrading, said a BOB official.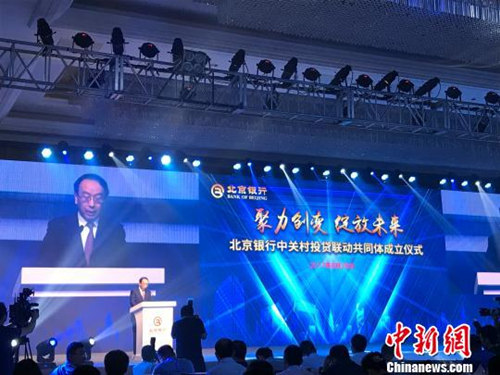 Bank of Beijing announces the establishment of investment & loan linkage for Zhongguancun community on June 28. [Photo/Chinanews.com]