Microsoft Accelerator Beijing celebrated its fifth anniversary on June 27, stressing that it aims to continue providing topnotch startup services worldwide, and looks to further collaboration with business giants in emerging industries.
At the celebration, 16 startups showcased their latest products and technologies in cloud computing, big data, Internet of Things (IoT), and artificial intelligence (AI).
More than 700 people took part in the event, gaining insights into the new energy the world's leading accelerator injected into industrial renovation over the past five years.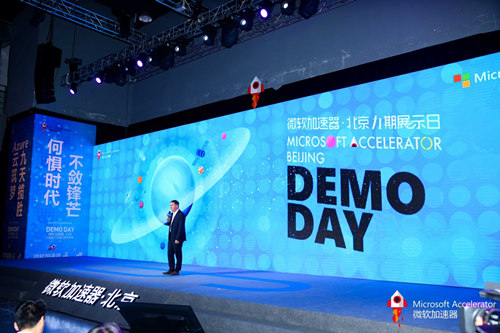 Microsoft Accelerator Beijing celebrates its fifth anniversary on June 27, during which 13 of its best startups detail their latest achievements. [Photo provided to chinadaily.com.cn]
Microsoft opened its first accelerator in China in July, 2012, based at Zhongguancun Science Park, China's first national innovation demonstration zone.
The global initiative empowers entrepreneurs to build competitive companies with all kinds of resources and service in support.
A complete innovative ecological system has been built through globally continuous explorations from other bases in Tel Aviv in Israel, Bangalore in India, and London.
The universal system is designed to cope with general issues that may arise during the later-stage development of startups and has been customized for specific industry situations and policies in China.
Comprehensive services are provided for the startups, including training, guidance, networking, and even a lot of exposure opportunities.
So far, the Beijing accelerator has succeeded in incubating 156 startups in nine batches, with a total value estimated at more than 50 billion yuan ($7.4 billion).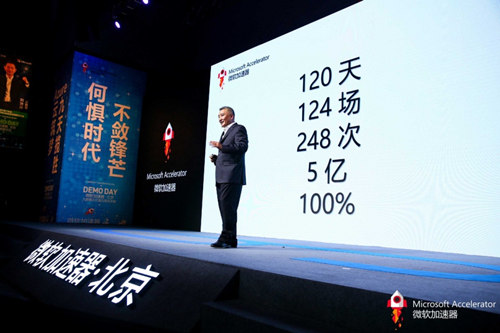 A spokesman illustrates how Microsoft Accelerator serves its startups.[Photo provided to chinadaily.com.cn]
Nearly 90 percent of them have obtained the next round of financing capital during their time with Microsoft Accelerator Beijing, and are now serving 500 million individuals and 2 million corporate consumers in China.
The goal set for the accelerator is to help startups mature into enterprise-ready companies by scaling every aspect of their business.
By now, it has even produced three enterprises that are listed on the New OTCBB Stock at Shanghai Stock Market.
Alain Crozier, Microsoft Corporate Vice President and Chairman and CEO of Greater China Region, said that the key to the success lies in its way of integrating innovation in products, technologies, market, resources and organization which generates more commercial values. The entry threshold for the startups who hope to settle in what is said to be one of the world's best accelerators is high and it is determined by whether they have genuine innovation capability and whether they could launch their products.
A four-to-six-month tailor-made program will be designed for them once they are included, helping them with CEO coaching, team culture development, talent recruiting, working with big corporates and developing new markets.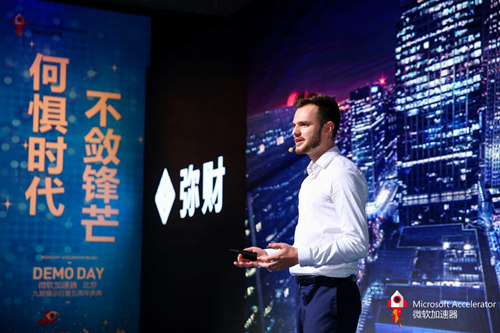 A business leader of fin-tech firm Micai speaks about how they provide tailored investment consultancy. [Photo provided to chinadaily.com.cn]
"Microsoft has been a part of China for more than 20 years," said Crozier. "Our vision in China is simple, that is all about 'Being the Innovation Partner of China'."
Crozier said that, together, with great entrepreneurs, great partners like Huawei, Honeywell, KPMG, and all their investment and industry partners, they can help empower ever person and every organization in China to achieve more, and truly impact on the world.
For the accelerator's next step it will focus on healthcare, government, finance, manufacturing and smart city and will be assisted in selecting the most potential startups by Coca Cola, Wanda, and KPMG in respective domain aspects.