A series of groundbreaking new drones created a buzz at a new products exhibition in China's leading start-up hub, Zhongguancun National Demonstration Zone, in Beijing on June 14.
The latest unmanned aerial vehicle (UAV) products from five companies from Beijing, Shanghai, Wuhan and Shenyang were showcased at the event, which was held in Zhongguancun's exhibition and technology transfer center.
The UAV Show China 2017 took place alongside the event on the other side of the exhibition hall, and was attended by a large number of researchers, government officials and experts.
Many of the new products on display attracted great attention, particularly the tilt-rotor UAV developed by Shenyang-based Woozoo Technology, which is capable of reaching top speeds of 120 kilometers per hour and can travel up to 90 kilometers on a single charge.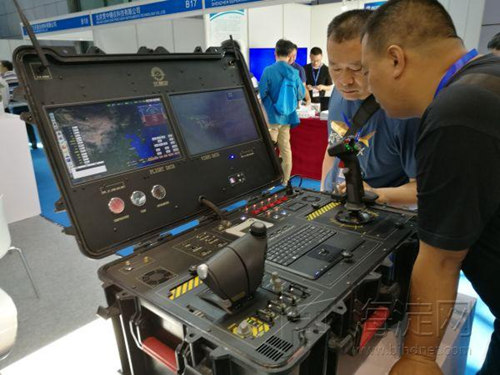 Visitors learn how to manipulate the UAV controller at the UAV Show China 2017 at Zhongguancun National Demonstration Zone. [Photo/bjhd.gov.cn]
Woozoo's next-gen drone can also be controlled by wireless controller from distances of up to 20 kilometers, making the device useful for search and rescue missions, firefighting, military intelligence, geological examinations and many other applications.
Zhongguancun has emerged as China's main platform for promoting innovation in the country's rapidly growing UAV industry in recent years.
The hub has now hosted the UAV Show China 2017, China's largest drone industry event, twice, and it is expected to become the permanent home of the event in the future, according to Zhongguancun's management committee.
The center has also become an important window for displaying Chinese innovation to the world since it was named a national platform in 2011.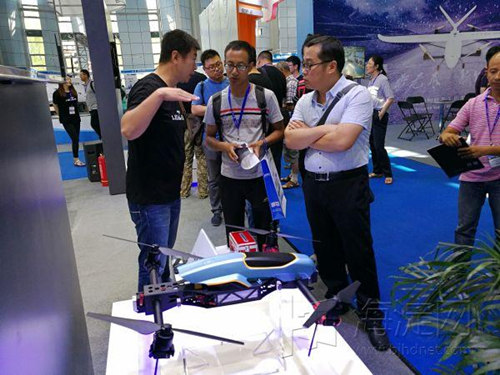 Business representatives hear of the introduction of the latest UAVs. [Photo/bjhd.gov.cn]
It has showcased nearly 1,000 new products by some 300 companies in the intervening years, and has received more than 250,000 visitors, including several foreign heads of state, officials and international delegations.
President Xi Jinping noted that Zhongguancun has become the flagship of China's innovative development during a visit organized by the Political Bureau of the Central Committee in 2013.
Xi expected that Zhongguancun would enhance the implementation of the innovation-driven development strategy to develop into a globally influential technological innovative center in the near future.