Visitors to the famous Mogao Grottoes in Gansu province are being met by a very unusual tour guide.
"Xiao Bing", a robot with artificial Intelligence (AI) technology has been stationed at the entrance to the ancient grottoes in Dunhuang since last year and has become indispensable in providing 24-hour consultancy services to visitors.
The use of the robot marks the perfect combination of AI with the famous cultural relic, a "pearl" on the ancient Silk Road, allowing its treasures to be displayed more effectively.
Xiao Bing can help to inform at least 2 million people a year about culture, history, tourism and the academic value of Mogao Grottoes by conversing with them.
"Talking to her is like having a chat with a friend, and we can get an accurate understanding of all kinds of information about the ancient relic," said Lu Xiangqiao, a visitor.
Besides the robot, digital technologies such as virtual reality and augmented reality are also used to render visual enjoyment to tourists and to promote the protections of the relic.
These AI technologies were jointly developed by Dunhuang Academy China, Microsoft Research Asia and Microsoft Search Technology Center, with the aim of giving the scenic spot a new lease of life.
"AI technology can help more people get to know the cultures of countries involved in the Belt and Road Initiative", said Hong Xiaowen, president of Microsoft Research Asia.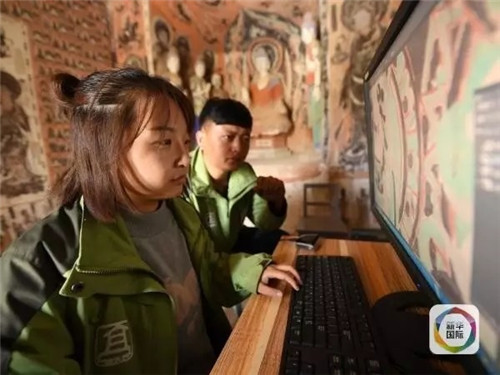 A young woman searches for information on a computer at the Mogao Grottoes. [Photo/xinhuanews]