Zhongguancun, China's first hi-tech park, recently initiated a talent program aimed at introducing outstanding exchange students from countries of the Belt and Road to serve hi-tech enterprises and institutions. The program is the first of its kind in China.
The launch ceremony was held at the University of International Business and Economics (UIBE), which will also serve as the program's training base. More than 500 exchange students, enterprises delegates and government officials attended the event.
The program was developed by Zhongguancun's Association for the Promotion of Industrial Development under the Belt and Road Initiative. The association, established in 2016, is China's first organization dedicated to providing international cooperation services related to the Belt and Road Initiative.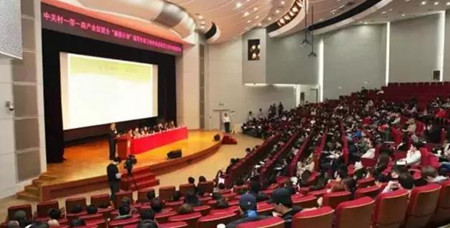 Zhongguancun holds a launch ceremony for its new program aimed at recruiting foreign exchange students from Belt and Road countries for the park's development. [Photo/Official WeChat account of Zhongguancun Science Park]
The program is aimed at gathering exemplary international graduates to contribute to the economic growth of Zhongguancun, as well as assisting enterprises find and train targeted talent.
"It will help promote China's scientific innovations among other Belt and Road countries," said Zhang Xiaodong, president of the association.
The talent program has a goal of introducing more than 10,000 exchange students over the next five years, with 1,000 establishing cooperative relationships. The number of enterprises benefiting from the program is expected to exceed 100.