Apple Inc has set up its first Chinese research and development center in Wangjing area of Beijing, with registered capital of 100 million yuan ($14.99 million), as the US tech giant wrestles with tumbling smartphone sales and mounting competition from local rivals.
The R&D unit will have about 500 employees and its total investment will eventually reach 300 million yuan, according to the official WeChat account of the administrative committee of Zhongguancun Science Park.
Apple declined to comment on the story. The news came shortly after Tim Cook visited Beijing in August, promising to open its first independently operated R&D center in China by the year end.
The unit will focus on developing computers, softwares, audio and video devices as well as other consumer electronics, for Apple's customers in China and around the world.
Zhongguancun Science Park, located in Beijing, is arguably the most intensive scientific, education and talent resource base in China. It boasts almost 40 premier universities and colleges such as Peking University and Tsinghua University, as well as more than 200 scientific institutions.
Nicole Peng, research director at Shanghai-based consultancy Canalys, said the move marked a significant change in Apple's perception of the China market.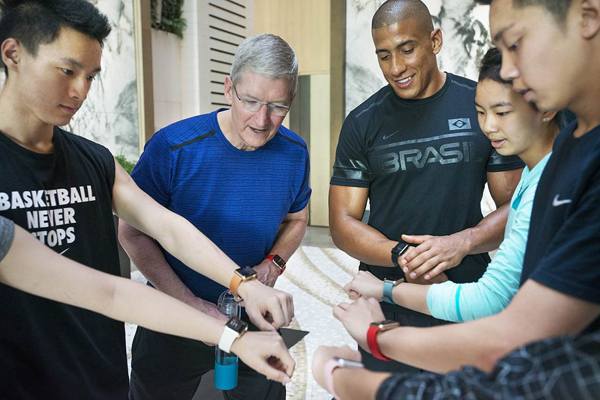 Apple CEO Tim Cook looks at Apple watches being worn by Chinese fitness students in Beijing, on August 16, 2016. [Photo provided to chinadaily.com.cn]
"China is no longer just a big buyer of its consumer electronics products. As the country makes big strides in the internet and information technology, it becomes an important part of Apple's global research and development efforts," Peng said.
Also, China has become a trendsetter in many aspects and the analysis of Chinese consumers' preferences and usage habits can now reflect a broader trend among Asian buyers, she added.
In May, Apple pumped $1 billion into Didi Chuxing, China's largest ride-hailing platform.
During his latest visits to Beijing, Tim Cook also held extensive meetings with app developers, highlighting the firm's recognition of China's research capabilities.
Jin Di, research manager at International Data Corp China, said the R&D center is a well-calculated step to improve the localization of its products as local brands Huawei Technologies Co Ltd and Oppo catch up quickly.
"Chinese consumers are highly fragmented. A local R&D team can help Apple better understand local players' product and marketing strategies and keep track of what is going on in the rapidly changing market."
Apple launched its latest iPhone earlier this month, but IDC forecast that the iPhone 7 will not be a huge hit in China given that it has few features which can resonate with local consumers.
In the quarter ended in June, Apple saw a 33 percent drop in sales in China, marking its highest decline in all regions, while domestic brands Huawei and Oppo saw surges in shipments of 15 percent and 124 percent, respectively.