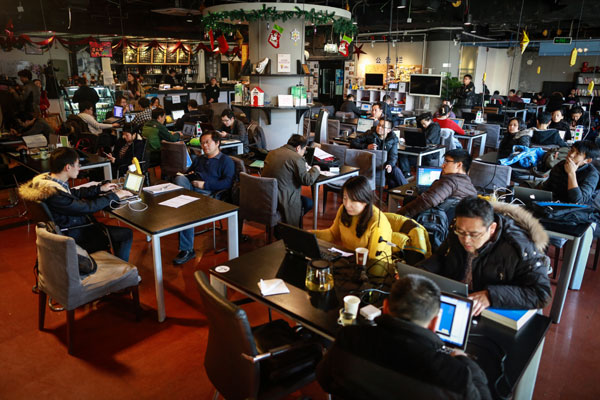 Potential fills the room at cafe Garage, an incubator for enterprises. [Photo by Feng Yongbin/China Daily]
Located in China's technology hub Zhongguancun, more than 140 young companies use Garage Cafe as a place to grow their businesses and meet investors.
In 2010, Shen Mengmin quit his job selling extractors to construction companies in southern China and moved to Beijing with the dream of starting his own business.He sleeps in a $4-a-night bed in a bath center in Zhongguancun.
He eats only one meal a day - the free breakfast that comes with the bed. Every day after breakfast, Shen rushes to a cafe near the bath center.
The cafe is hard to find. It's located above a cheap hotel, on the second floor of an old building.
Its green-and-white sign looks small and plain, compared to the rows of signs for discount bookstores and clothes shops.
The cafe's decorations are simple; it has a bar and dozens of large tables. Most of its customers are men, which isn't that unusual when you consider the cafe's location: Zhongguancun.
More than 170,000 people - mostly men - work in the information technology hub's 4,000 companies.
Shen walks quickly to a table and sets up his laptop. Through the cafe, he has met people who specialize in app design, and together they have designed an app that serves as a market for secondhand excavators. He often comes to the cafe to discuss his app with investors.
Garage Cafe was founded by Su Di, a former employee of an investment company.
He spent years traversing Beijing's notorious traffic, looking for enterprising people whose projects needed money from his company.
Then he came up with the idea of opening a cafe where entrepreneurs and investors can come together.