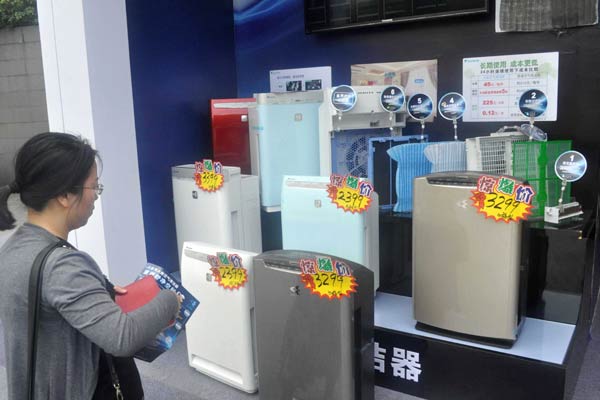 A customer checks out air purifiers at a store in Shanghai. Xiaomi Corp will launch an air purifier that can be remotely turned on using a smartphone. YAN DAMING/CHINA DAILY
Beijing's choking smog has prompted electronics giant Xiaomi Corp into its latest product launch-an air purifier that sends its users real-time pollution updates.
Industry insiders said the new gadget shows that Xiaomi is moving ever closer to creating its own smart-home division, and the Beijing-based company is now expected to announce it is joining forces with other manufacturers in building a series of next-generation household appliances.
The purifier can be remotely turned on using a smartphone, said Lei Jun, Xiaomi's chief executive.
Expected to hit the market next week, the device can deliver as much as 406 cubic meters of clean air in an hour, but more significantly, at 899 yuan ($145), it is a fraction of the cost of rival products with similar capacities sold by global players such as Blueair AB and Sharp Corp, which retail at more than 4,000 yuan.
Many Chinese cities have encountered air pollution problems in recent years because of intensive use of fossil fuel-based energy sources.
Although the government has pledged to aggressively curb carbon dioxide emissions to reduce pollution levels, clearer air could still be a decade away.
The readings of particles smaller than 2.5 micrometers again soared to hazardous level on Tuesday in Beijing after about a week of clear skies.
Lei said the product is expected to make a huge impact on the market when launched, but the purifier could just be a warm-up for Xiaomi's wider smart-home strategy.
After launching a number of self-developed products such as routers and Internet televisions, the company is expected to attract more players to be part of its plans.
Experts suggest that Guangdong-based home appliance giant Midea Group Co Ltd, China's leading air conditioner and refrigerator vendor, could be its next investment target.
Local newspaper Guangzhou Daily said Lei and Midea's top executives reached an initial partnership agreement on Saturday, with Xiaomi likely to make an investment in Midea.
Both companies refused to comment on the report.
Midea on Tuesday suspended its shares on the Shenzhen Stock Exchange, saying it was mulling over "a major announcement".
The company registered nearly $19 billion in global turnover in 2013.
Yu Yang, CEO of industry consultancy Analysys International, said Lei has "tremendous ambition" to change people's ways of living in China.
"Xiaomi is selling a way of life to Chinese consumers. It will do any business that fits people's ideal lifestyle. I am not sure if Xiaomi can pull off an ambition this big, but if it does, the company will be more valuable than Apple Inc."
In less than five years, Xiaomi has become the world's third-largest smartphone vendor by shipments after Samsung Electronics Co and Apple, according to IDC.
The company shipped more than 17 million smartphones in the third quarter of the year, mostly on the Chinese mainland.