No 1 PC maker aims to take a bite out of Apple in computer sales
Lenovo Group Ltd is hoping to lift its combined shipment of desktops, laptops and tablet computers to be No 1 in the world within two years, overtaking Apple Inc, CEO Yang Yuanqing said on Wednesday.
The biggest personal computer maker also pledged to build a stronger service arm, especially in the cloud sector, during the next fiscal year.
As of the fiscal year that ended March 31, Lenovo had shipped 55 million PCs, 50 million smartphones and 9.2 million tablets.
The company's annual earnings hit a record high of $817 million, a jump of nearly 30 percent year-on-year, the company said in its annual report.
Lenovo described the past fiscal year as "truly outstanding", as the Beijing-based enterprise continued to show better-than-market performance and put pressure on Apple and Samsung Electronics Co Ltd in smartphone and tablet sales.
"The record sales and profits that we delivered last year prove that Lenovo can grow and deliver its commitments, no matter the market conditions," Yang said.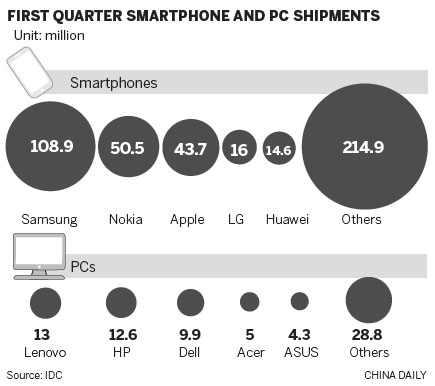 As China is Lenovo's home turf, it came as no surprise that it was also its biggest earnings source. About a third of sales were generated in the nation where Lenovo owns a substantial market share in PC and smartphone sectors.
PC shipments to Europe, the Middle East and Africa grew by 33.3 percent during the last fiscal quarter, which started in January, it said.
"Lenovo was able to close the gap between itself and Samsung in the Chinese smartphone market in the past year," said Sun Qi, vice-president of local consultancy Sino Market Research Ltd.
"With Motorola's mobility unit joining the group later this year, it will be strong enough to pose some serious challenges to the South Korean company," Sun said.
Although Apple enjoys a much smaller market share in desktop and laptop computers, the American company has an edge in the global tablet market.
It shipped more than 16 million tablets in the first quarter, compared with 2.1 million shipments by Lenovo, according to research firm International Data Corp.
Lenovo's worldwide market share in the desktop/laptop/tablet sector was roughly 12 percent, while Apple took 16 percent, according to Yang.
Earlier this year, Lenovo purchased Motorola Mobility from Google Inc for $2.9 billion in order to beef up its mobile unit.
The move will help Lenovo catch up Apple and Samsung if not surpass them, analysts said.
Analysts also suggested that perhaps it was time for Lenovo to consider becoming a service provider rather than just a hardware builder.
"Lenovo should jump out of its comfort zone," said Kitty Fok, head of IDC China.
"In terms of hardware, Lenovo has purchased the right companies to do the expansion. But the world is about more than just hardware; you need to explore new frontiers," she said.
"Lenovo feels comfortable in the hardware market because it knows how to control the ecosystem, how to negotiate with the component suppliers and how to control costs," Fok said, "because the bigger you are, the easier it is to negotiate."
But the company needs to start thinking about what other kinds of services a hardware company can provide, she added.
gaoyuan@chinadaily.com.cn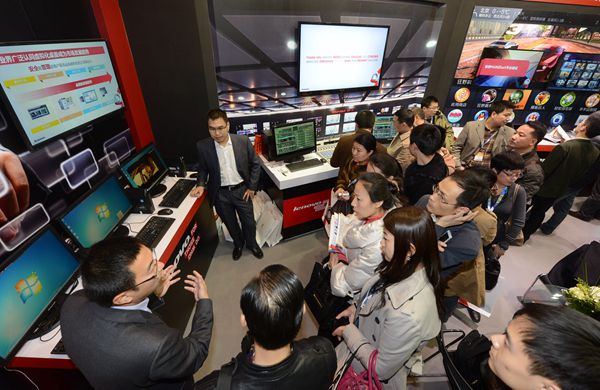 Visitors at Lenovo Group's booth look at the company's products at a trade show in Beijing in March. Provided to China Daily