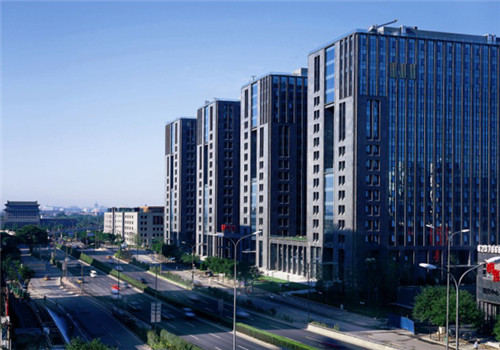 Xicheng Park was completed on 24 May, 2002. After eight years' development, it has become one of the major areas driving the economic development of Beijing's Xicheng district with an increasingly rational industrial structure and economic benefits.
Located in the north of Xicheng district, which plays an important administrative function of the capital, Xicheng Park serves as an area where S&T is developed, and for cultural and creative industries. The park covers an area of 5.64 square kilometers and is home to the two areas of Dewai and Xiwai
According to the Beijing Overall Urban Plan (2004-2020), Xicheng district is positioned as one of the core districts with capital functions. As a main carrier of the national politics center, a national financial management center, an important tourist area and a well-known business center in China, Xicheng district boasts profound cultural legacy and strong advantages in financial, information, S&T and educational resources, which has laid a solid foundation for the Science and Technology Industrial Park.
Xicheng Park's leading industries are R&D and design, financial back-office service, cultural creativity and high-end trade. The park is also adjusting its spatial distribution and promoting industrial development and spatial transformation.
In order to accelerate the construction of Xicheng Park, the Xicheng District People's Government has issued special industrial policies to support the expansion of enterprises, such as the Several Regulations of Xicheng District on Further Promoting the Industrial Development of Desheng Science and Technology Park in Zhongguancun Science and Technology Park, to advance the innovations of enterprises in the park in coordination with related policies of the state, the Beijing municipality and Zhongguancun Science and Technology Park.
Famouse enterprises in the park:
Electronics and IT: Union Mobile Pay Ltd, Beijing Qihoo Technology Co Ltd, People's Daily Online Development Co Ltd, Beijing HXHT MegaEyes Information Technology Co Ltd.
Biomedicine: Beijing Increase Pharm Technology Co Ltd, Beijing Tech-Sky Pharm-pro Co Ltd.
New materials: General Research Institute for Nonferrous Metals, Beijing Doublink Solders Co Ltd.
Advanced manufacturing: Beijing General Research Institute of Mining & Metallurgy, Beijing Research Institute of Automation for Machinery Industry.
Cultural creativity: China Architecture Design & Research Group, China Aviation Planning and Construction Development Co Ltd, CVSC-TNS Research Co Ltd, Beijing Publishing Group Ltd.
High-end trade: Beijing Equity Exchange Co Ltd, China Forestry Exchange Co Ltd.
Please refer to: http://www.bjxch.gov.cn/pub/xch_zhuzhan/zjxc/B8/B8_4/B8_4b/