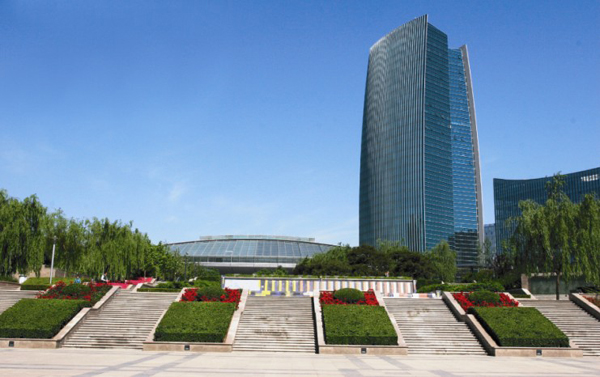 Haidian Park is China's first national high and new-tech industrial development zone – the Beijing New Technology Industrial Development Trial Zone that is home to many renowned universities and research institutions such as Peking University, Tsinghua University and Chinese Academy of Social Sciences. The park, with a planned area of 133.06 square kilometers, is also the birthplace of "Zhongguancun Electronics Street".
During the development of the past two decades, Haidian Park has seized the opportunities of the market economy transformation and made remarkable achievements by virtue of its advantages in S&T resources and innovation personnel.
Some enterprises in Haidian Park have won the National Prize for Progress in Science and Technologys numerous times. Lenovo, Sohu, Yadu, Aigo, Crystal CG, Newauto were selected as Olympic sponsors, and their independent innovative technologies and products have been applied to key Olympic products. Baidu, Vimicro, Origin Agritech and other companies have been successfully listed on the Nasdaq.
The number of enterprises in Haidian Park accounts for half of all Nasdaq-listed Chinese enterprises, and 86 enterprises in Haidian Park have gone public. There are more than 40 branches and R&D centers of the world's top 500 enterprises in the park. Haidian Park has become a hub with the most concentrated number of international corporations in China.
Haidian Park emphasizes the development of the financial service, creative, new materials and biomedicine industries. The park facilitates the growth of the mechanical and electronic integration industry. Meanwhile, it is consolidating its leading position as the electronic information industry. The park aims to facilitate enterprises with proprietary intellectual property rights, build university S&T parks and overseas students' pioneer parks into major platforms for emerging industries.
The park enjoys multiple preferential polices, including corporate income tax preferential treatment, technical standard subsidy for Zhongguancun Science and Technology Park, overseas students pioneering service system for the Park and a pioneering service fund for small enterprises.
Please refer to: http://www.zhongguancun.com.cn/hdyglwyh/