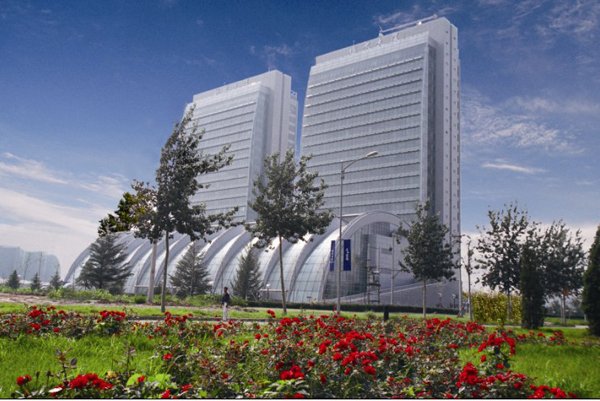 In June 1999, the Yizhuang Science and Technology Park of Zhongguancun Science and Technology Park was established. The park enjoys dual policies for national economic and technical development zones and national new and high-tech industrial parks. At the end of December 2010, 3,870 enterprises had entered the Yizhuang Park, with a total investment worth $25.08 billion. Beijing Yizhuang has become a new economic growth center of the city and the choice of numerous investors.
Beijing Yizhuang is situated in the Jingjintang (Beijing-Tianjin-Tangshan) Industrial Belt and Bohai Economic and Industrial Rim along the Jingjintang Expressway between the Fifth and Sixth Ring Roads. The park connects various major economic zones and traffic junctions, including Jingkai (Beijing-Kaifeng) Expressway, Jingjintang Expressway and 104 National Road. It only takes half an hour to drive from Yizhuang to the Beijing Capital International Airport, and is only 150 kilometers' away from the largest international trading port in north China – Tianjin Xingang Port.
After more than a decade's development, Beijing Yizhuang has shaped four leading industries - electronic information, biomedicine, automobile making and equipment manufacturing. Yizhuang will further adjust its industrial structure and support the cultivation of three emerging industries – new energy and materials, army-civilian combination, cultural and creative industries. In addition, the park will develop the producer service industry, S&T innovation service and the urban industry.
There are more than 80 famous transnational corporations in the park, including Nokia, Corning, Benz, Bayer, GE, Bosch, SMC, and SMIC. The Xingwang Industrial Park inside it has attracted globally renowned mobile communication supporting enterprises, making the mobile communication industrial chain that is led by Nokia the most comprehensive and competitive companies in the world.
Beijing Yizhuang has equipped optimized infrastructure and supporting service facilities. It also boasts sound eco-environment and eco-friendly industrial systems, realizing a balanced economic development and sustainable environmental improvement.
Supporting and incentive industrial measures in Beijing Yizhuang are: Industrial Support and Incentive Measures for Beijing Economic-Technological Development Area (for Trial Implementation), and Management Measures of Special Scientific and Technological Innovation Funds for Beijing Economic-Technological Development Area (for Trial Implementation). The government has provided enterprises with the maximum support in terms of industrial development, S&T innovation and talent development.
Please refer to: http://www.bda.gov.cn/cms/