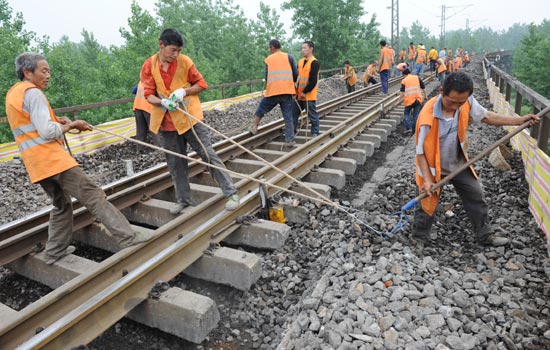 Workers on a section of the Beijing-Kowloon railway near Fuyang, Anhui province. Experts predict that China's economy will rebound in the third quarter as stimulus policies take effect. [Photo/China Daily]
Slowdown in China 'being reversed', says JPMorgan
China's economic growth is expected to accelerate in the third quarter as the effect of policy easing becomes evident from July, allowing the country to remain a powerful engine for the global economic recovery, said a senior economist with JPMorgan Chase & Co.
"The country's growth this year is likely to contribute 40 percent of world economic growth. China is playing a significant role in stabilizing the global economic system and helping solve the problems of the indebted eurozone," Jing Ulrich, chairwoman of global markets with JPMorgan in China, said on Tuesday at the bank's 8th annual China conference in Beijing.
"Some data have shown that the economic slowdown in China is being reversed," said Ulrich, citing new lending in May at 793.2 billion yuan ($125 billion). The figure exceeded analysts' estimates and indicated that monetary policy had taken effect.
Car sales last month jumped 23 percent from a year earlier, the fastest pace this year, showing that the sector is rebounding to support industrial production overall, according to Ulrich.
The latest export data were further evidence of a rebound. Based on figures from the General Administration of Customs, exports in May surged 15.3 percent to $181.1 billion, compared with growth of 4.9 percent in April and 8.9 percent in March.
"Policymakers appear willing to accept a structural downshift in growth and will likely direct further stimulus measures toward strategic industries and basic infrastructure in underdeveloped areas," a report from JPMorgan said.
The bank lowered China's full-year GDP growth forecast to 7.7 percent from the previous 8.0 percent, the second downgrade in a month, given grim external conditions and increasing risks in Europe.
"The momentum of policy loosening needs to be further strengthened if China's ongoing growth slowdown is to be reversed," said Qu Hongbin, chief economist in China with HSBC Holdings Plc.
Last week, the central bank announced a cut in one-year benchmark interest rates by 25 basis points, the first reduction since the end of 2008.
"Aside from last week's policy rate cut, which helped reduce the lending cost for households and businesses, Beijing policymakers need to continue relying more on quantitative easing tools to ensure sufficient liquidity growth," said Qu.
The report from JPMorgan forecast as many as two addition cuts in banks' reserve requirement ratio by year-end, and a second interest rate cut of 25 basis points in the third quarter.
The start of a new cycle of public spending and consumer stimulus will also help boost loan demand, it said.
"Given the fast expansion of the consumer segment and income growth in China, the retail sector is expected to contribute more to the economic expansion in the next two quarters," said Chen Xiaodong, chief executive officer of the Intime Department Store (Group) Co Ltd
Ulrich also forecast that China's stock market may rebound in the second half with the main board index rising to as high as 2,600.
chenjia1@chinadaily.com.cn