With homegrown technologies, thrilling theme parks and ambitions to expand, Fantawild looks to become an entertainment powerhouse similar to Disney.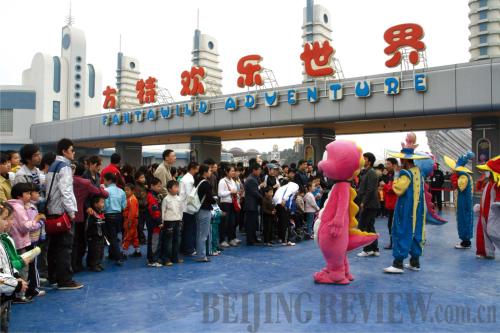 HIGH-TECH ADVENTURE: Fantawild's first high-tech theme park in Wuhu, Anhui province, offers thrill rides incorporating its expertise on special films and 4D theaters (COURTESY OF FANTAWILD)
Spirits were high in Wuhu, an old industrial city in east China's Anhui province, as fun-seeking crowds descended on Fantawild Adventure Theme Park during the National Day holiday. More than 165,100 visitors—a record for the park and a 25-percent year-on-year increase—rode thrill rides, ate fun foods and enjoyed interactive games and stage performances.
Fantawild fills its theme parks—four are operational and five will launch soon in China—with independently developed content and technology. From its cartoons, animated films and digital games to its 3-D imaging technologies, all are on display at Fantawild's fun themed centers.
Fantawild's success has to do with its ubiquitous presence throughout the entire entertainment industrial chain. It operates a program network for its cartoon serials, cooperating with more than 50 TV channels; it produces special-effect films for its 3-D or 4-D cinemas and theme parks. And these cinemas and theme parks, in turn, serve as advertising platforms for its content.
Now a heavyweight in applying hi-tech solutions to the entertainment industry, Fantawild Holding has exported more than 20 special films and 10,000 minutes worth of animated content, and built more than 70 4-D theaters with cylindrical screens in European and Asian markets, in addition to its flagship theme park operations.
In 2009, Fantawild's combined contributions made up 46 percent of its parent conglomerate's total profit (Fantawild is owned by Huaqiang Holdings), although its revenue was less than 10 percent of the total.
The company also has namesake theme parks in Iran, Ukraine and South Africa.
4G theme park network
Like Disney and Universal Studios parks, Fantawild is a fourth-generation theme park focusing on visitor participation, interaction and overall experience, said Shang Linlin, Vice President of Fantawild.
"The experience is more like an adventure, which tickles all your senses," she said. "The Fantawild Adventure Theme Park—the company's first try at a theme park—has brought the company and the city of Wuhu win-win results."
The Shenzhen-based Overseas Chinese Town Holdings invested in three theme parks—Window of the World, Splendid China and Happy Valley—but these consist of only equipment-based thrill rides and less intricate landscapes. Fantawild's theme parks, enriched by the company's animated content, are more like Disney parks.
Fantawild's technology is "as good as Disney's, if not better," said Shang.
"It is the company's ultimate goal to match and surpass Disney in every facet imaginable," said Liang Guangwei, President of Huaqiang Holdings.
Launched in October 2007, the park of 1.25 million square meters has turned Wuhu, a small city with less than 700,000 residents, into a tourist magnet, drawing in about 2 million tourists every year. And the city, a 90-minute ride from both Jiangsu's provincial capital Nanjing and Anhui's provincial capital Hefei, now vividly displays Fantawild's technological strength and marketing expertise in theme park operation and derivative product development.
And more tourists will be attracted to the city as Fantawild's latest theme park, Dream Kingdom, will be launched soon. With an area of 700,000 square meters, the new park is expected to have 2.5 million visitors annually. Compared with Fantawild Adventure, the new park is smaller and more animated, focusing more on the interactive experience.
Fantawild's numbers are especially impressive, since it exists in an industry in which 70 percent of China's 2,500 theme parks are now in the red.
"It will boost consumption when visitors from cities three to four hours away stay for a couple of days, dining out and taking advantage of the local shopping scene," Shang said.
The new park is part of Fantawild's ambitious industrial park project in Wuhu. Fantawild will spend 2.5 billion yuan ($373 million) on four production bases for digital films, digital animation, gaming software and cultural derivatives, in addition to the theme park.
The Wuhu industrial park is expected to have the annual research and production capacity to create 20,000 minutes of cartoons and five export-oriented digital films.
For its overseas projects, Fantawild has cooperated with its partners familiar with local cultures, legal and business environments and the managing authorities. As the intellectual copyright holder of core technologies and equipment, Fantawild requires its partners to purchase equipment, just as Disney does. But compared with Disney theme parks, Fantawild's are less expensive. The Johannesburg Fantawild Park in South Africa, which is 770,000 square meters, will cost $250 million and take three years to complete. The Disney project in Shanghai, which is still being discussed, is reportedly worth 40 billion yuan ($6 billion).
"There are only a few cities outside the United States, such as Tokyo, Paris and Shanghai, that can afford a Disney or Universal Studio's park," Shang said.
China became the second country after the United States capable of exporting an entire theme park operation when Fantawild's Iran project, worth about $111 million, was inked in 2007.
Countries such as Saudi Arabia and Russia have also shown interest in Fantawild theme parks.
Fun, thrills and innovation
Fantawild's parent company, Huaqiang Holdings Ltd., is a household name in Shenzhen. After its founding in 1979, Huaqiang snowballed from an electronics component manufacturer into a conglomerate investing in more than 60 domestic and international companies. These companies operate in hi-tech electronics components manufacturing, hi-tech entertainment, electronics market research and consulting, and sugar and papermaking industries and yielded around 15 billion yuan ($2.24 billion) in 2009.
To add versatility to its core competitiveness, Huaqiang bought a technology company with about 50 employees in 1998, and that company became Fantawild. With parental investment, Fantawild set out to make 4-D theaters with cylindrical screens in 2000. In 2002, Fantawild registered a patent in the United States for 3-D film imaging on cylindrical screens and has since developed and exported 4-D theater systems to more than 40 countries. The company also leased films tailored to the systems of overseas cinema operators.
Three years later, the company started developing high-tech theme parks. The opening of the Wuhu theme park in 2007 was a Fantawild milestone and has allowed the company to build up its profitability in recent years.
The theme parks, aside from providing fun and thrills to visitors, give the company a platform to maximize returns on its special films, cartoons and derivative products.
While investing heavily to upgrade its cartoon and 3-D film production lines, Fantawild has placed great importance on intellectual property rights protection.
Currently, Fantawild holds about 100 patents and 150 trademarks in special film, cartoon and digital game production, software design and equipment manufacturing. Half of its employees are R&D personnel, including creative designers, said Shang.
"Compared with the Hong Kong Disneyland, we have much lower operating costs, thanks to a number of intellectual property rights we have," Shang said. "While the Disneyland operator in Hong Kong will need at least an annual flow of 8 million visitors to make both ends meet, we will lead a cozy life with 2 million visitors every year."
Fantawild's profit this year is expected to reach 450 million yuan ($67 million), up from 1 million yuan ($149,000) in 1998. Its talent pool has also ballooned to 5,000, Shang said.
To mitigate talent shortages, the company is establishing industrial bases in major coastal cities and even offering specially designed courses at some colleges.
"China's cartoon design colleges are generally failing to update their training programs in accordance with the changing demand or the latest developments in the animation and cartoon industry. We want to get students ready to work for Fantawild with these courses," she said.
Fantawild's global vision
Except for its latest investment in writer-director Dayyan Eng's black comedy Inseparable, starring Oscar-winning actor Kevin Spacey and Daniel Wu, Fantawild's previous ventures into film have been minority investments in mainland-Hong Kong co-production.
"With a minority investment in the sci-fi action film Future X-Cops, starring Hong Kong actor Andy Lau, we obtained the copyright for theme park development of the movie, as well as Andy Lau's image," said Shang Linlin, Vice President of Fantawild.
But Inseparable places much less emphasis on computer graphics or special effects.
"It's a Chinese story told through international language. The screenplay uses a classical Hollywood narrative structure, with 70 percent dialogue carried in English and a recognizable face for Western audiences. That's the primary reason for our investment," she said.
Fantawild's leaders have been looking for ways to help Chinese culture, specifically Chinese films, go global, taking inspiration from overseas markets.
"Overseas customers to our theme parks look for fun and excitement. They aren't interested in stories with Chinese elements unless we reinterpret them and wrap them in hi-tech presentations that enable audience interaction," she said.
Likewise, Western audiences don't want to watch movies depicting the ignorant and backward side of old China, even if these films did win awards in Europe, Shang added.
"This has urged us to produce true blockbusters about modern and changing China, about how China perceives the world and what our values are," she said.
Inseparable helps bridge this gap—the movie centers on a young man (Daniel Wu) with problems at home and work who is befriended by a mysterious American expat (Spacey). Filming has wrapped up, but a release date has yet to be announced.
By Ding Wenlei (Beijing Review) 
Editor: Li Jing