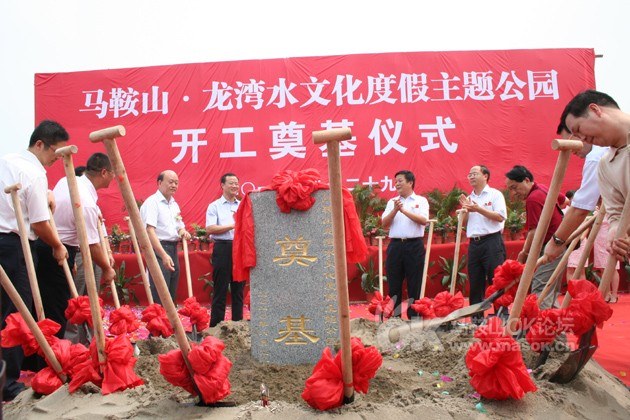 Foundation laying ceremony for Longwanshui Cultural Theme Park
Construction is under way at Longwanshui Cultural Theme Park, the first theme park in Ma'anshan in Anhui province. Construction began August 29 in the Putang scenic area of Ma'anshan.
The park will be 2,200 hectares in size and cost an estimated 550 million yuan. Based on the country's 5A scenic area standard, Longwanshui Cultural Theme Park is expected to become the largest hot spring resort village in East China.
The park will be divided into several functional areas, including Water Culture Park, International Business Resort, Vacation Dwelling Area, Shopping Square and Orchard Zone. The park is expected to accept 3,000 business visitors and 3,000 leisure visitors each day, plus an additional 3,000 more visitors on days when special entertainment events are scheduled.
The theme park is being developed by Nanjin Countryside World Tourism Company, which has developed several tourism resources in China. Zhang Xudong, president of the board of the company, said during the opening ceremony that he would make the park a new model for successful tourism destinations.
By Audrey and Liu Xi