4. Bamboo Shoots from Wenzheng Hill Cooked with Sausage and Dried Mushroom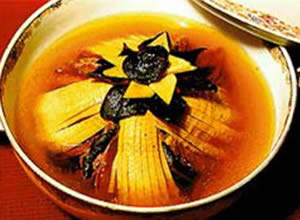 This dish is a traditional flavor in Huizhou mountainous area. Bamboo shoots are produced in Wenzheng Hill in Shexian county, Huangshan city, Anhui province. Cooked with sausage and dried mushrooms, the bamboo shoots are more fragrant.
As the most famous local dish in vegetarian dishes of Anhui, this dish is known for jade white, crisp, tender, delicious bamboo shoots. It is delicious, and noted for its good color, juicy meat and thick soup.