3. Stinky Tofu (Mao Bean Curd)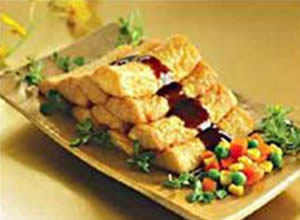 Mao bean curd is also called Huizhou funky bean curd. "The taste is much better than the smell," people say, which means that although it smells strongly, it has a very light and delicate flavor. Most visitors to the Huangshan area are scared off by the smell, but they are missing a wonderful dish. It's a traditional snack in Huizhou (Huangshan Prefecture) and an acquired taste. It could be considered as the Chinese alternative to a Stilton or Camembert cheese.
Rumored to have been first created during The Qing Dynasty (1644-1911), this dish was enjoyed by the Kang Xi Emperor, making it famous throughout China. 
Best Eaten on the Street
Sellers traditionally carry the bean curd around in a container hanging from a shoulder pole. From one end dangles chopsticks and a pan, and from the other dangles the tofu, sesame oil and hot pepper.
When the oil is heated up, the hot and odorous Mao bean curd, with sounds of "zizi" on the pan, awakens the locals' appetite. It's a special cultural experience to eat Mao bean curd from a street seller. People don't use bowls, and eat with chopsticks beside the pan. The dish can now be found in many restaurants.