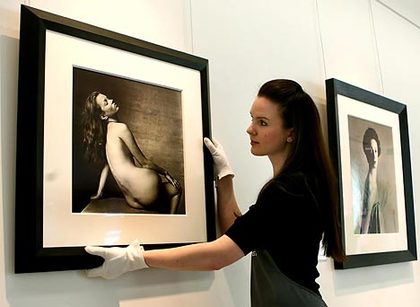 For sale: The auction will take place at Christie's auction house in New York on April 10
Among the images on offer are portraits of 60s icon Brigitte Bardot and a reclining nude of American actress Lauren Hutton and a set of four psychedelic Beatles portraits all by celebrated fashion photographer Richard Avedon.
Elfering, 49, one of the world's foremost collectors of 20th-century photography, owns iconic prints by such greats as Helmut Newton, Avedon, Man Ray, Robert Mapplethorpe, Guy Bourdin, Cindy Sherman, Diane Arbus and legendary photographer Horst P. Horst.
He first encountered the work of Horst in the early Eighties when the then 25-year-old German walked into Hamilton's Gallery while vacationing in London.