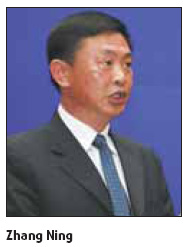 The Kunming Economic and Technological Development Zone plans to generate more than 20 billion yuan in total industrial output and over 2 billion yuan in fiscal revenue next year, according to recently released projections from the zone's administrators.
Founded in 1992 as a national-level development zone approved by the State Council, it now plays an important role in the economies of Kunming and Yunnan province, said Zhang Ning, administration committee director.
"As the capital city of a frontier province, Kunming is still in the initial stage of industrialization and urbanization," Zhang said. "The development zone, a new and special part of the city, is playing an exemplary role, especially in improving the development environment for enterprises."
From 2006 to 2008, the zone's economic volume surpassed the total of the previous 14 years since its founding. It generated 29.08 billion yuan in total industrial output value, with its enterprises reporting 28.46 billion yuan in sales in those three years.
Zhang said attracting investment is always high on the agenda of the Kunming development zone.
In 2008, utilized overseas investment totaled $94.52 million. Foreign investors signed agreements for $385 million in projects from 2006 to 2008, about 80 percent of the total pledged foreign investment since the zone's founding.

The Kunming zone is a pilot area in Yunnan province for attracting international investment.
Industrial parks
In order to draw more enterprises to Kunming, the zone has invested 2.41 billion yuan over the past three years in infrastructure construction, especially in building three big industrial parks for optoelectronics, information technology and export processing.
The first phase of the optoelectronics park has been completed and a second phase is under construction.
Thirty-seven enterprises have started construction in the information technology park. Eleven are now in operation.
The Kunming Export Processing Park passed the combined appraisal of nine State ministries and commissions in February last year and became operational.
In addition, the provincial government of Yunnan signed a cooperation framework agreement with the Shenzhen city government to build the Shenzhen Industrial Park in the zone. The Shenzhen facility received a widespread attention from investors in coastal regions as enterprises from east and south China relocate their industrial facilities.
Better service
Along with improving infrastructure, the Kunming zone's authorities are also making great efforts to upgrade services.
Zhang said the administrative committee has set up an investment company to take charge of raising funds and implement development projects, making it possible for the committee to focus on public services and other administration affairs.
The Kunming development zone also has a complete public service system, including services in education, public health and labor.
The gross business revenue of all the enterprises in the zone is projected to reach 33 billion yuan this year, an increase of 10 percent over 2008. Despite the global financial crises, its total import and export volume is expected to stabilize at $110 million, the same level of last year.
Zone profile
Kunming Economic and Technological Development Zone is located in the east of the city, with a planned area of 9.8 sq km.
It focuses mainly on modern manufacturing, hi-tech industries and services with high added value.
The zone has attracted 23.6 billion yuan of investment from businesses in various countries and regions, including the US, Britain, Germany, Belgium, Japan, Singapore, Malaysia, the Philippines and Thailand, as well as the Chinese mainland, Hong Kong and Taiwan.
The zone reported a total industrial output value of 13.15 billion yuan and 29.98 billion yuan in sales revenues last year. As one of the largest industrial zones in Yunnan province, it has already formed an industrial cluster for tobacco processing, machinery manufacturing, electronic information and biotechnology.
Since 2006, the development zone has set new goals to construct seven main industrial parks for optoelectronics, information technology, export processing and machine tools as well as the Shenzhen industrial park, a heavy-duty equipment manufacturing base and an ASEAN logistics park.
Its blueprint calls for the zone to become a demonstration area for international investment in Yunnan with intensive capital and technology, an international manufacturing base and a modern information and logistics hub for the region.
By September 2009, 72 enterprises began operations and invested 11.8 billion yuan in the zone.