When Wei Yuan from Hunan, a minor official of the Qing Dynasty (1644-1911), wrote The Illustrated Gazetteer of the Maritime Countries, in 1844, introducing the rest of the world to the imperial court, he became the first Chinese to advocate learning about the West.
Wei is a role model, says Xiao Xiangqing, director general of the Foreign and Overseas Chinese Affairs Office of the Hunan government. Along with 70 colleagues, Xiao is working on an ambitious project to raise the profile of this central China province on the world stage.
"Unlike the coastal provinces of East China, Hunan lacks the advantages of location and infrastructure. But it is blessed with unique natural and cultural resources. Moreover, the Hunanese are known for their boldness and initiative," he says.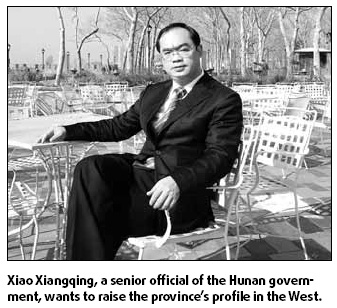 This September, his office held numerous events to promote the province, such as the Ministerial Forum on International Cooperation in Chinese Hybrid Rice Technology, the 2009 Hunan Economic Cooperation Fair and the Third Hunan Entrepreneurs' Conference.
Xiao sees them as effective advertisements of Hunan. For example, its hybrid rice ranks with other famous icons such as Hunan native Chairman Mao Zedong and scenic Zhangjiajie.
When Xiao assumed his current post in 2007, he encouraged local companies and enterprises to expand into overseas markets.
His proposals were soon accepted by the provincial government.
In the first half of this year, Hunan outdid other provinces with $960 million in overseas investment. Between 1999 and 2008, more than 200 companies from Hunan have been set up outside the Chinese mainland, with investments worth $1.2 billion.
Toward the end of 2007, Hunan's city cluster of Changsha, Zhuzhou and Xiangtan was chosen for a pilot project on reforms focused on the environment and conservation in the course of urban planning.
"There are no domestic models to learn from. We can only learn by experimenting," Xiao says of the project and points out that the chosen cities are heavily polluted and turning them into an environmentally friendly area presents a big challenge.
He believes the challenge actually provides an excellent opportunity for Hunan to cooperate with cities and regions abroad and his office often invites overseas Chinese businessmen and scholars for their suggestions on ways to foster sustainable development.
For example, to protect the Xiangjiang River, a tributary of the Yangtze that flows through Changsha, from further pollution, Xiao looked at the successful measures taken in 10 cities abroad faced with the same situation.
"If we reach our goal to be environmentally-friendly and resource-conserving, the city cluster can become a model for other cities," says Xiao.