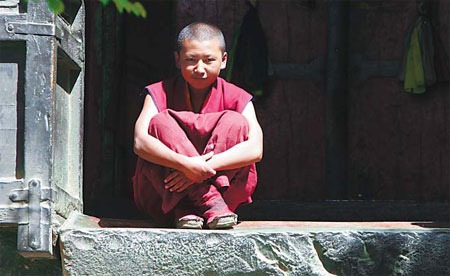 Many lamas in Tashilhunpo Monastery, Xigaze, can speak English, use computers and are familiar with modern technology.
For Losang Zaxi, a 20-year-old lama in the Tashilhunpo Monastery of Xigaze in Tibet, life is not all that different from that of his peers.
Every day, he spends his spare time watching TV and Jet Li's kung fu movies, listening to pop music and sending text message to his friends on his mobile phone.
The quiet boy, a native of Xigaze, studied at a village primary school. He didn't want to study further, so he became a lama.
"Being a lama was more difficult than school, because there were so many rules to follow in the monastery," he says.
For instance, Internet cafes are strictly off-limits to monks of the Tashilhunpo Monastery. "There are too many temptations on the Internet. Once a monk is addicted, his study of Buddhism will suffer," says Losang Yignyen, 30, an assistant to Salung Phunlha, deputy chief of the monastery.
According to Salung, the 600-year-old monastery now houses more than 800 lamas, with fewer than 300 young men like Losang. In the 1950s, there were nearly 5,000 lamas in the monastery.
"They fell into three categories: pious believers, children of poor serfs who entered the monastery to make a living and those sent to the temples to meet a quota," he says.
Temples had quotas for the serfs, and those who joined for this reason were called zunzhas. More than 70 percent of the lamas were from impoverished families, he says.
Monasteries, along with aristocrats and government officials, were among the landowners in Tibet at that time. Farmers worked the land under contract and had to turn in grain, butter and fodder as tax. Hence, each lama at the temple could get 42 kg of food per month without doing any of the work it took to produce the food, says Qiangba, 64, a former lama in Tashilhunpo.
After democratic reform in 1959, the manors and land were confiscated. Some 3,000 lamas left for a secular life.