Dai performers at Yulingu Jingqu press sizzling hot ceramic plates against their tongues, roll blazing torches over their bare torsos and dance barefoot on glass shards - and do so with a smile.
Such bravado dazzles crowds, who gasp and applaud as the men rake machete blades across their feet and tongues, and grind searing coals beneath their heels.
Yulingu Jingqu is an amusement park dedicated to Dai customs in the rainforest near Yunnan province's Xishuangbanna Dai autonomous prefecture.
It's not a place to see the modern realities of the ethnic minority. Instead, it purveys scripted renditions of ancestral Dai life, with traditional houses, hunting traps and costumed villagers strewn along a jungle pathway.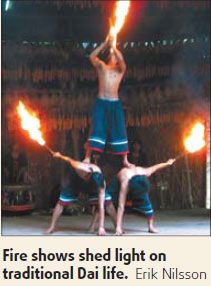 Highlights include a rope-and-plank bridge network zigzagging through the rainforest canopy and a colossal sacred fig tree rising from a millennium-old web of roots.
The Dai language comes from a Chinese-Tibetan family with three dialects and a written script. Most of the ethnic group's members practice a version of Hinayana Buddhism with shamanic residuum. The local culture has been shaped by Xishuangbanna's location in the jungles nudging Myanmar and straddling the Mekong River.
A more authentic contemporary Dai experience can be found in the Dai Minority Folk Customs Park, a huddle of five villages that is home to about 1,000 residents.
Visitors can stroll among residents' houses, built in distinctive Dai style - that is, perched on stilts with rooftops distinguished by dramatically barbed eaves fringed with flame-shaped cutouts. While these structures' ground floors were once home to livestock, today, they mostly warehouse parked motorbikes.
Travelers can stay overnight with a Dai family for 50 to 150 yuan ($7.3-21.9).
Manchunman is the park's most popular village for visitors and is home to the Mahasutthawas Temple. The centerpiece of this Dai-style Buddhist monastery built in 1126 is a tall gold-plated Burmese stupa set amid four smaller topes.
Visitors to the park can also dine on local fare - known for its spicy and sour tastes - hunched over the low double-tiered reed tables distinctive to the ethnic group.
The Water Splashing Festival - the biggest Dai jamboree- runs daily in Manchuman's town square.