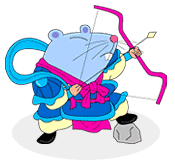 Daily Overview form June 18, 2008
Rat
If you've been extremely busy at work, try to hold off on accepting any new projects, no matter have tempting they may be. Focus on your savings account but make sure you've put away enough money for your retirement and emergency expenses for a rainy day.
Ox
You're not very far from the truth if it seems like you've been working very hard on the job. However, your hard work and efforts will not go to waste as higher-ups have probably been watching your every move with much delight. Keep putting money into your savings and 401K as slow and steady investments will prevail.
Tiger
If work conditions have been worsening and are beginning to border on the untenable, voice your concerns to your boss before the situation gets worse. A practical joke or other foolishness could get out of hand today if you don't state your disapproval early on.
Rabbit
You can make steady progress at work if you don't get involved in office politics and idle gossip around the water cooler. There could be some sad news arriving about a family member. Spend the late afternoon hours in your backyard or tending to your garden; being outside should refresh your spirit.