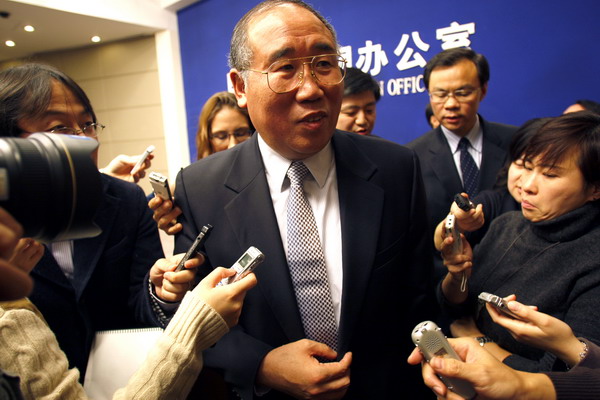 Xie Zhenhua, deputy head of the National Development and Reform Commission, answers questions after the press conference in Beijing on Tuesday. [Zhang Wei/China Daily]
BEIJING - China's top climate official on Tuesday urged industrialized countries to play a major role in curbing global greenhouse gas emissions and promised that China will make serious efforts to achieve an early peak of its carbon growth.
"Developed countries have to take the lead in reducing their carbon emissions and making space for developing nations to prosper," Xie Zhenhua, deputy head of the National Development and Reform Commission, told a news conference in Beijing, just days before the start of international climate talks in Mexico.
"Of course, China will not allow unchecked increase of its carbon emissions. Instead, the country is poised to take measures so that the emissions can peak at an early stage," Xie said.
But he insisted that China will not accept any obligation beyond its ability as a developing country.
By the end of 2010, China, one of the world's major emitters of carbon dioxide, will be close to beating its five-year target of improving energy efficiency by 20 percent, Xie said.
"As a result, China has avoided the emission of 1.5 billion tons of carbon," he said.
Home power safe
BEIJING - The State Council on Tuesday ordered local governments to ensure normal power supplies to residents after some local governments cut household electricity and shut down power plants to meet the energy efficiency target.
"Such practices are completely wrong and have to be corrected. They not only affected the public's daily life, but also caused damage to the power grids," said a notice published on the central government's website.
From the beginning of the 11th Five-Year Plan (2006-2010), some local governments did not put enough efforts into reducing their energy consumption.
As a result, they adopted incorrect measures as the deadline approaches, such as cutting energy supply to households and enterprises, said Xie Zhenhua, deputy head of the National Development and Reform Commission.
"This is not in line with our original goal to facilitate the restructuring of our economy," he said at a press conference on Tuesday.
However, the notice said strict electricity restrictions should be put on energy-intensive enterprises, and decorative lighting in cities should be avoided.
- Li Jing
During the past five years, about 2 trillion yuan ($300 billion) has been invested in energy-saving and emission-reduction projects. The central government provided about 200 billion yuan of this.
The binding targets on energy intensity and pollution control sent out a positive signal to the market, according to Xie.
"In future development plans, targets on carbon intensity, non-fossil fuel consumption and forest protection will also be included, which means more business opportunities," he said.
The country will rely more on market mechanisms to control its carbon emissions during the period of the 12th Five-Year Plan (2011-2015).
"The government is considering levying an environmental tax during the next five years, while a carbon tax is still being studied," Xie said, adding that pilot carbon trade programs will be accelerated.
In the upcoming Cancun climate talks in Mexico, where more than 190 countries will gather to discuss a new global treaty on cutting carbon emissions, China will continue to play an active role.
"It is particularly important for countries to move toward a substantive outcome on financing and technology transfer, which are also the issues developing countries watch most closely, so that we can lay a solid foundation for reaching a legally binding outcome in South Africa next year," he said.
Under an arrangement reached at last year's conference in Copenhagen, rich nations had pledged a fast-start climate fund of $30 billion by 2012 to help developing countries adapt to climate change. They offered an eventual goal of $100 billion by 2020. But no substantial progress has been made on that front, Xie said.