MANILA, Philippines - The US government said Sunday it made an "honest mistake" when it displayed an inverted Philippine flag - which wrongfully signified that the Southeast Asian nation was in a state of war - in a meeting hosted by President Barack Obama.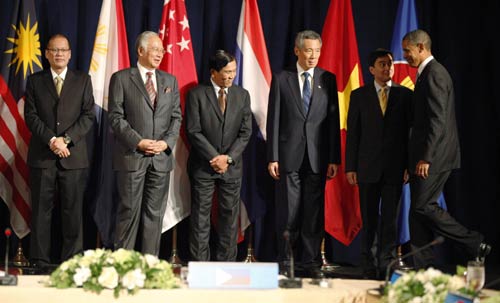 US President Barack Obama arrives on stage for a group picture with leaders of ASEAN nations on the sidelines of the United Nations General Assembly in New York, September 24, 2010. With Obama are (L-R) Philippines President Benigno Aquino III, Malaysian Prime Minister Najib Razak, Myanmar's Foreign Minister U Nyan Win, Singapore's Prime Minister Lee Hsien Loong and Thailand's Prime Minister Abhisit Vejjajiva. [Agencies]
The Philippine flag was displayed upside down behind President Benigno Aquino III when leaders of the Association of Southeast Asian Nations met Obama in New York on Friday.
"This was an honest mistake," US Embassy spokeswoman Rebecca Thompson said in a statement, adding, "the US treasures its close relationship and close partnership with the Philippines."
The American embassy will find out how the "unfortunate" incident happened, she said.
Philippine foreign affairs department spokesman Ed Malaya said the government understood that it was "an honest error" that "should not detract from the true significance of the summit, which showed the unprecedented cooperation between the ASEAN and the US."
It was not immediately clear who pointed out the mistake. A photograph of Aquino sitting beside Obama with the inverted flag behind them was displayed on a government website Sunday but its caption did not point out the error.