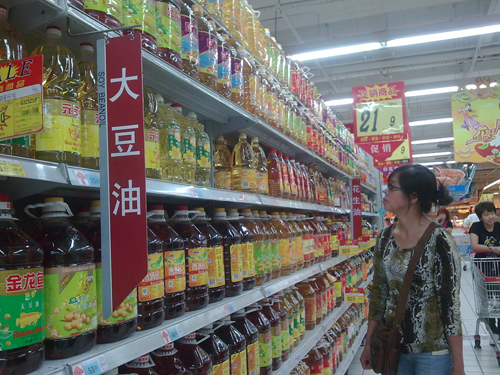 People select cooking oil in a supermarket in Qiqihar, Northeast China's Heilongjiang province, Sept 11, 2010. [Photo/Xinhua]
Inflation not a concern
Although China's inflation rate quickened to a 22-month high, economists said it is not cause for worry as the bulk of the price increases came from higher food costs that were caused by adverse weather conditions, which will not last.
The consumer price index (CPI), a major gauge of inflation, rose 3.5 percent from a year earlier in August, the second consecutive month the CPI has exceeded the government's full-year target of 3 percent.
Food prices, which have about a one-third weighting in the calculation of the CPI, climbed 7.5 percent year on year in August, according to NBS statistics. The pace of growth quickened from the 6.8-percent rise in July and 5.7-percent growth in June.
The CPI grew 0.6 percent in August from July. For the first eight months, it increased 2.8 percent year on year.
Analysts expect the CPI to ease in the fourth quarter.
Zhu Jianfang, chief analyst at Citic Securities, said the pace of food price increases is likely to ease from September and that the chances of an interest rate hike are slim.
"With proper regulation for the rest of the year, it is still feasible to realize the government's full-year inflation control target," Sheng said.
Renowned economist Fan Gang said on Friday on a forum in Shaoxing, Zhejiang Province that food prices are expected to remain stable this year and no serious inflation is anticipated in the second half.
The manufacturing industry has overcapacity, which does not support serious inflation, said Fan, director of the National Economic Research Institute.
He said food prices in China will remain stable in the second half of this year because international food prices haven't seen large fluctuations, despite Russia's ban on grain exports until the end of the year.
Meanwhile, China's annual grain production has recorded increases for six consecutive years, he said.
The impact on grain harvests from natural disasters that hit some regions this year would remain manageable, he said.