SHANGCHENG, Henan - Fear has broken out in Shangcheng county, Henan province, after the outbreak of an unspecified tick-borne illness that has infected 119 people since January.
According to Yu Fang, director of Shangcheng county's center for disease control and prevention, one infected patient surnamed Wu died of the illness in the county.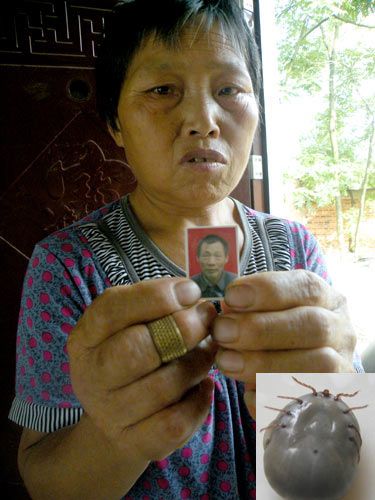 The wife (Top) of Bao Xiangyi, a villager from Henan province who died nine days after being bitten in May by a tick (Down, Right), holds his photo in grief on Aug 24. [Sun Xuyang / for China Daily]
A report by Xinhua News Agency said two people have died since May 2007 after contracting the infection from tick bites in Xinyang city, of which Shangcheng county is a part, citing provincial health authorities on Wednesday.
The two were among 245 reported cases in the city since May 2007 of suspected human granulocytic anaplasmosis, a bacterial disease with symptoms similar to the flu.
Most of the cases were found in Xinyang's Shangcheng and Guangshan counties and Shihe and Pingqiao districts, said Xu Bianli, deputy head of the Henan provincial center for disease control and prevention.
However, the Beijing News reported on Wednesday that over the past year and a half, "several people in Henan province's Shangcheng county have died due to tick bites, and locals were kept uninformed about the epidemic".
A spokesman for the Ministry of Health told China Daily that the ministry was aware of the disease, but declined to elaborate on the issue.
The Beijing News report said the villagers who suffered from the tick-borne illness show symptoms of fever, and a reduction in the number of platelets and white blood cells, which can lead to organ failure and death.
People in close contact with patients can also be infected if no precautions are taken.
Doctors said the disease is curable if treated soon enough.
But doctors at local medical clinics lacked knowledge of the disease as it was only identified in 2007, Xu Bianli was quoted by Xinhua as saying.
The Beijing News report said that although several people died from tick-borne disease last year in Shangcheng, many local doctors still did not recognize the disease. Instead they diagnosed it as a common cold or meningitis.
"Once a patient has been misdiagnosed, it is difficult for them to recover," said Wang Deqiang, vice-president of Shangcheng County People's Hospital.
The Shangcheng county government said in a news release on Wednesday that the national disease control and prevention center has been monitoring the disease to further investigate the illness.
"The number of cases infected with the tick-borne disease has started to decrease," it said.
Ticks have existed in the area for years. They are parasitic arachnids attaching themselves to human skin, sucking blood and transmitting diseases. They can grow from the size of sesame seeds to as big as soybeans after being sated with blood, according to local witnesses.
Cang Wei contributed to this story.