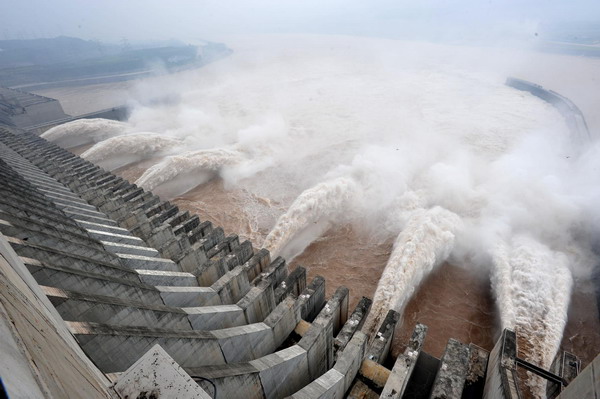 Floodwater rushes through the sluice gates of the Three Gorges Dam in Yichang, central China's Hubei province on July 19, 2010.  [Photo/Xinhua]
YICHANG, Hubei - The Three Gorges Dam on China's Yangtze River was holding up against its first major flood-control test Tuesday, said officials of the China Three Gorges Corporation.
The flow on the river's upper reaches topped 70,000 cubic meters a second Tuesday - 20,000 cubic meters more than the flow during the 1998 floods that killed 4,150 people and the highest level since the dam was completed last year.
The flow peaked at 70,000 cubic meters per second at the Three Gorges Dam at 8 am, still below the record high of 70,800 cubic meters per second in 1981, a spokesman with the corporation said.
"The peak flow is high, but it has not exceeded the designed capacity of 100,000 cubic meters of water per second," said Cao Guangjing, the corporation's chairman.
"The dam can withstand the challenge easily," Cao said.
All ferry services were halted at the Three Gorges Dam on Monday and the 30-km exclusive road along the river had been opened to vehicles carrying shipping cargoes, said an official of the Three Gorges Navigation Administration.
Services would be resumed after the influx decreased from 70,000 to 45,000 cubic meters per second, the official said.
Ferries near the Gezhouba Dam, on the lower reaches of the Three Gorges, were still operating as the flow there was 40,000 cubic meters a second, below its designed capacity of 60,000 cubic meters per second, the official said.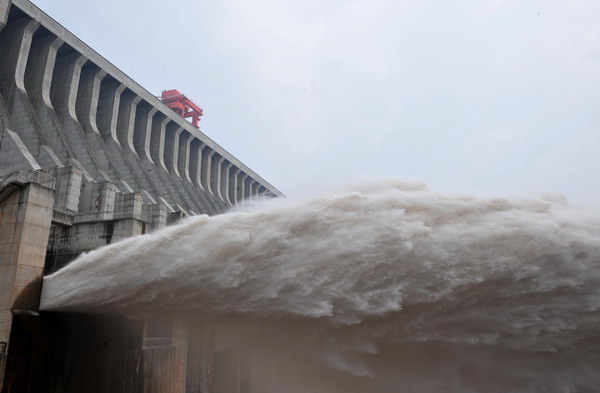 Floodwater rushes through the sluice gates of the Three Gorges Dam in Yichang, central China's Hubei province on July 19, 2010. [Photo/Xinhua]