CHONGQING - Wen Qiang, the former top justice official in the southwestern city of Chongqing, was executed on Wednesday for corruption.
Wen, 55, was the highest ranking official among 100 caught in the city's massive crackdown on violent gangs and the corrupt officials who protect them.
The Municipal High People's Court on May 21 rejected an appeal by Wen, who was sentenced to death by a lower court on April 14 for accepting bribes, shielding criminal gangs, rape and failing to account for both his cash and assets.
Wen served as the city's deputy police chief from 1992 to 2008 and later as the justice chief until he was arrested in September 2009.
The death sentence had been forwarded to the Supreme People's Court and was approved, according to a statement released by the Municipal High People's Court at 10:45am on Wednesday.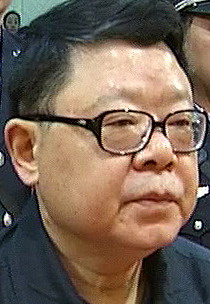 File photo, Wen Qiang, former top justice offi cial of Chongqing, was executed on Wednesday after being convicted for corruption and rape. [China Daily]
The statement did not specify the time of execution, nor how the execution was to be carried out.
Local media reported that Wen received a lethal injection.
Before the execution, Wen met his sister, Wen Wanqin, and his son, Wen Jiahao, early on Wednesday, Caijing magazine reported on its website.
During the less than 10-minute hearing at the No 5 Intermediate People's Court, Wen told his son: "You have to behave yourself, be a good man and do not blame society."
Wen also told his son that "your father is guilty", the report said, citing Wen Wanqin.
Hearing the news of Wen's execution, some local residents lit firecrackers or held banners that read "Wen's execution, Chongqing's stability" at the gates of the Municipal High People's Court and the municipal Communist Party Committee.
Several local residents China Daily randomly interviewed in the street said they all received mobile phone messages about Wen's execution around 11 am.
Many locals said they believe Chongqing will now maintain good public order for a while and hope that pressure is kept up on containing corruption and gangs.
Corruption has long haunted the ruling Communist Party of China. The Party's General Secretary, Hu Jintao, once said that "determined punishment and effective prevention of corruption concerns... the existence of the Party".
Meanwhile on Wednesday, another senior police official stood trial for corruption in Xi'an of Northwest China's Shaanxi province.
Zheng Shaodong, former assistant minister of public security, went on trial at the Intermediate People's Court in Xi'an on charges of accepting bribes and abusing his authority.
Prosecutors allege that from 2001 to October 2007, Zheng abused his position by promoting the interests of others in return for bribes worth more than 8.26 million yuan ($1.04 million).
Zheng had sought personal gain by using his authority to help others, by seeking favors for people involved in criminal investigations, as well as in job promotions and employment, prosecutors said.
The trial was adjourned until a later date.
From 2001 to 2005, Zheng was deputy head of the public security department of Guangdong province and the former director of the economic criminal investigation bureau under the Ministry of Public Security.
In April 2005, he was promoted to assistant minister of public security.