SHANGHAI - A host of state-of-the-art techniques have been employed to help visitors cope with the summer heat. Some of the technologies will be more widely applied after the 184-day event.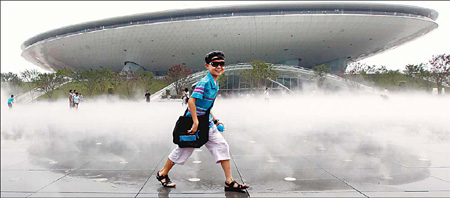 A cooling system in the Expo Garden uses water nozzles to spray mist into the air to absorb heat. Gao Erqiang / China Daily
One of the devices being used at Expo 2010 Shanghai was first introduced at Expo 2005 Aichi Japan. Known as the "star cooler" at the Japanese event, the sprayers work by shooting mist into the air to absorb the heat.
The system has mainly been deployed in the waiting areas of popular pavilions, such as those of Saudi Arabia, Britain and China, where visitors wait hours to gain admittance.
A professor at the University of Shanghai for Science and Technology, Huang Chen, who is responsible for the adaptation and application of the spray system, is pushing for its wider application.
"The technology is environmental friendly and highly effective in cooling the temperature. Our team is now selecting sites for the application of the system in the city's schools and communities," Huang said.
The first civic application of the system is due to be installed in Shanghai in August. If it proves successful, the system will be recommended for other public locations, she said.
Another more complex system that has the potential to be the legacy of the Shanghai Expo is the heat pump air-conditioning system.
The system operates through the use of heat pumps that were placed under the Huangpu River and are connected to pipes buried under the Expo Boulevard.
At full capacity, the pumps can extract 1,200 tons of water from the river per hour, which is then used to cool down the boulevard before channeling the water back into the river, according to Wang Zhenqiang, deputy general manager of the Nanjing-based Fullshare Energy, the company responsible for the project.
Wang said the Shanghai municipal government had expressed great interest in the technology.
"The system in the Expo Garden is an experiment. Shanghai, with its extensive river network, is an ideal location for the heat pump air-conditioning system," he said.
After the Expo, his company plans to conduct some field surveys and speak with the local government to see whether the technology might be adopted for use elsewhere in the city.
The Green Wall of the Citybeing Pavilion demonstrates yet another way to cool a building without Freon air-conditioners.
By covering its surface with vegetation, the Green Wall absorbs less solar radiation than a concrete wall in the summer, reducing the overall temperature of the building, which, in turn, reduces energy consumption.
"Lots of companies and agencies came to the Expo Garden to learn about the Green Wall," Song Xuechun, vice-general manager of the project department for the Shanghai World Expo Group, was quoted by local media as saying.