SHANGHAI - While the World Cup has gripped the globe, soccer fever has proven contagious at the Expo Garden, as pavilions encourage both staff and tourists to participate in soccer-related events.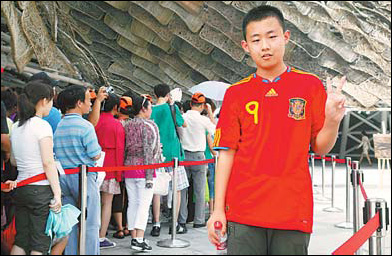 Clad in Spanish soccer player Fernando Torres' jersey, 15-year-old Sun Haoran from Yantai, Shandong province, enters the Spain Pavilion through the Green Pass on Wednesday. Yong Kai / for China Daily
"I'm a big fan of the German team's top shooter Miroslav Klose, so I'm wearing his jersey," Fudan University student Qin Chenchen told China Daily on Tuesday.
"I'm sure they'll beat Spain tonight, because they're the world's best and most united team," she added, while standing in line for the German Pavilion.
Thursday's semifinal between Germany and Spain defined the mood at both countries' pavilions.
The Spain Pavilion announced on Monday that visitors wearing the jerseys of either team did not have to line up to enter. The policy was meant to encourage the spirit of "friendship first, competition second", the pavilion's press officer Yang Yue said.
The idea of allowing those wearing the teams' apparel to bypass the lines was born out of the pavilion staff's excitement about the match, Yang added.
Shandong province native Sun Haoran, 15, was overjoyed when security reminded him he could jump the line because he was wearing the Fernando Torres jersey he had bought the day before.
"I'm sure Spain will win," Sun said. He explained he became a big fan of Torres and Spain's team when the country won the European Championship two years ago.
As the World Cup heads toward the finals, the First Expo Cup, organized by the customs office and the logistics department of the Expo Bureau, will also conclude this week.
Eight teams - six from national pavilions, including Italy, France, Saudi Arabia, Germany, Argentina and Spain, and two organizers' teams - competed in the special matches.
Teams have seven players who play 50-minute games and were all divided into two in the early rounds.
"Unfortunately, we lost the game with the Saudi Arabia Pavilion team yesterday and we have to play with the Spain Pavilion team tomorrow for the third place," Peter Wolkowicz, a driver at the Germany Pavilion and Expo Cup player, said.
"I'm sure we will win both games against the Spanish teams here and in South Africa." He added Germany would "definitely" win the World Cup final.
Support could be seen at the Expo for teams popular with Chinese despite having been eliminated from this year's World Cup, such as Brazil and Argentina. The Brazil Pavilion's souvenir shop at was among the most crowded.
Zhejiang province resident Hong Ruichen, 16, said he had come to the Expo Garden especially to visit the Brazil Pavilion.