PARIS - Top Chinese legislator Wu Bangguo and French Prime Minister Francois Fillon agreed on Wednesday that China and France should further consolidate bilateral ties and expand economic cooperation.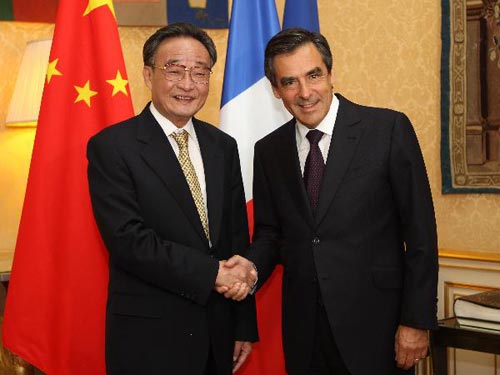 Wu Bangguo (L), chairman of the Standing Committee of China's National People's Congress, the country's top legislature, meets with French Prime Minister Francois Fillon in Paris, July 7, 2010.[Xinhua]
During a meeting held at Fillon's office, Fillon said Wu's visit will strengthen the traditional friendship between Paris and Beijing and promote the Sino-French comprehensive strategic partnership to a new stage.
Wu, who is conducting an eight-day official goodwill visit to France, said China and France share common interests in many areas. It is in the interest of both people to further develop the bilateral cooperation.
The Chinese and French economies are highly complementary and have great potential for more bilateral cooperation, said Wu, Chairman of the Standing Committee of China's National People's Congress (NPC).
China is willing to build a long-term and sustainable economic partnership with France, he added.
Fillon said the French government encourages French enterprises to expand cooperation with China in environmental-protection, agriculture and finance sector. France and China have common interests in accelerating the recovery of world economy and coping with global issues. France gives high priority to the development of Sino-French ties.
The two sides also achieved consensus on working together to boost exchange and cooperation between China and the European Union.