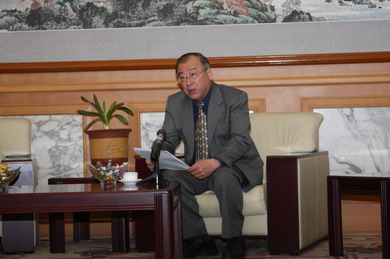 Chinese Ambassador to Mongolia Yu Hongyao speaks during an interview with some local media groups in Ulan Bator,capital of Mongolia, May 28,2010. [Photo/fmprc.gov.cn]
Full coverage: Premier Wen's Four-Nation Tour
ULAN BATOR - Chinese Premier Wen Jiabao's upcoming official visit to Mongolia will significantly push forward the China-Mongolia good-neighborly partnership of mutual trust, Chinese Ambassador to Mongolia Yu Hongyao said.
The visit, to take place on Tuesday and Wednesday, will be the first by a Chinese premier in 16 years and also the first by Wen as premier.
It is expected to further boost the mutual understanding and trust between the two peoples, as well as bilateral exchanges and cooperation in various fields, Yu said in a recent interview.
Related readings:


 Highlights of Chinese premier's tour in Japan

 Economic growth still vulnerable, Wen says  


 What will Wen get from his Asian tour?


 Wen pledges to curb inflation in China
During the visit, Wen will hold talks with his Mongolian counterpart Sukhbaataryn Batbold, and meet President Tsakhia Elbegdorj and Damdingiin Demberel, chairman of State Great Hural of Mongolia, to exchange views on bilateral relations as well as international and regional issues of common concern.
During Wen's stay, both countries will also ink a variety of trade and economic cooperation agreements.
Ambassador Yu said that in recent years, thanks to the joint efforts of both countries, the China-Mongolia ties have undergone continuous development, with mutual political trust being deepened, trade and economic cooperation widened, and people-to-people and cultural exchanges increased.
The Chinese government attaches importance to developing ties with Mongolia, and highly respects Mongolia's independence and sovereignty, and firmly supports the development path chosen by the Mongolian people, the ambassador said.
China appreciates the fact that Mongolia views its ties with China as one of its diplomatic priorities, strongly supports China on issues concerning its core interests, and abides by the one-China policy on the Taiwan and Tibet issues, he said.
Bilateral trade rose to US$2.438 billion in 2008 from 243 million dollars in 1998. After experiencing a decline in 2009 due to the global financial crisis, it is on the rise again this year.
Ambassador Yu said Chinese commodities have enriched the Mongolian market, while Mongolia's natural resources exported to China have supported China's economic development. The two peoples have got tangible benefits from bilateral trade.
Meanwhile, people flow between the two neighboring countries has also increased, with over 700,000 Mongolians entering China, and over 200,000 Chinese arriving in Mongolia in 2009, the ambassador said.
The Confucius Institute at the National University of Mongolia, founded in 2008, has played an important role in helping train Chinese language talents, he said, adding the Chinese cultural center in Ulan Bator will also be established soon.
China and Mongolia have the same or similar stances on many international and regional issues, and in recent years they have actively coordinated with each other on the issues to safeguard their mutual interests, the ambassador said.
"I believe Premier Wen's visit will further enrich the contents of the bilateral ties, deepen bilateral cooperation in specific fields, and lift the ties to a new high," he said.
Mongolia is the third leg of Premier Wen's four-nation Asia tour, which has already taken him to South Korea and Japan and will take him to Myanmar.