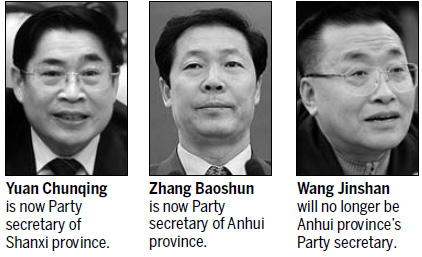 BEIJING - Yuan Chunqing, governor of Shaanxi - a northwestern province known for its Terracotta Warriors - has been appointed Party secretary of the coal mine-rich province of Shanxi.
Yuan, 58, replaced 60-year-old Zhang Baoshun, who has been moved to East China's Anhui province to be Party secretary there, the Communist Party of China (CPC) Central Committee announced on Monday.
Anhui's Party secretary, Wang Jinshan, has reached 65, a standard retirement age for China's ministerial-level officials.
Yuan's appointment was announced at a meeting on Monday morning in Shanxi by Zhang Ji'nan, deputy director of the Organization Department of the CPC Central Committee.
Before the appointment, Yuan served as governor of Northwest China's Shaanxi province starting in February 2007, as well as deputy secretary of the CPC Shaanxi provincial committee since 2001.
Yuan, a native of Hanshou county of Central China's Hunan province, joined the CPC in 1971.
He started his career as a local police officer and later studied at Peking University and China University of Political Science and Law, where he obtained a master's degree in law.
In 1980, Yuan began to work with the country's Communist Youth League authorities, a post he continued until 1997, when he joined the CPC Central Commission for Discipline Inspection.
In 2001, Yuan moved to Shaanxi to serve in provincial leadership positions. Over the past few years, the province has witnessed rapid economic growth and its GDP in 2009 surpassed that of coal mine-rich Shanxi for the first time.
With his new appointment, Yuan is expected to face arduous tasks to curb the frequent coal mine accidents in Shanxi, helping to revamp the economic structure of the mine-dependent province and improving the local environment.
Yuan replaced Zhang, a native of Qinhuangdao in North China's Hebei province, who has been the top official of Shanxi since July 2005.
Zhang served as a secretary of the secretariat of the Central Committee of Communist Youth League of China, and vice-president of Xinhua News Agency before transferring to Shanxi in 2001 to serve as deputy Party chief there.
During the five years that Zhang held the post of Party chief in Shanxi, he witnessed appointments of three successive governors, each time following a major accident.
The current governor, Wang Jun, former head of the State Administration of Work Safety, became acting governor of the province in September 2008, when Meng Xuenong resigned as governor in the wake of the collapse of an unlicensed iron ore dregs retaining pond. The accident killed 277 people.
Meng's predecessor, Yu Youjun, ended his tenure as Shanxi governor abruptly in August 2007 following a slave-labor scandal involving illegal brick kilns and mines.
Several severe coal mine accidents happened during Zhang Baoshun's tenure.
The latest took place on March 28, when underground flooding hit the local Wangjialing mine. The disaster left 38 dead, with 115 others trapped for up to eight days before being rescued.