Rare earths 'will not be bargaining instrument'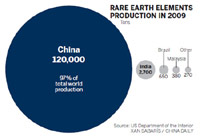 China said that it will not use rare earths as a diplomatic "bargaining tool", in response to challenges against its management of the vital metals.
It also said measures to restrict the exploitation, production and export of rare earths are in line with World Trade Organization (WTO) rules. [Full story]
China to reduce rare earth export quotas
China will further reduce quotas for rare earth exports by 30 percent at most next year to protect the precious metals from over-exploitation, said an official from the Ministry of Commerce.
He added that the country is now facing the possibility that reserves of medium and heavy rare earths might run dry within 15 to 20 years if the current rate of production is maintained. [Full story]
More stories
* Ensuring sustainability of rare earth
* 'No ban' on exports of rare earths to Japan
* China to promote mergers of rare earth firms
* China restricts rare earths for environment
* China to further regulate rare earth exploitation

Rare as it is
Attempts by some rich countries to challenge China's decision to enhance control and regulation over rare earth minerals is the latest evidence of astounding unfairness in the current global economic and trade order. [Full story]
China wise to guard its rare earth wealth
As scarce and nonrenewable resources, rare earth elements are indispensable material needed by sophisticated industries and national defense industry. China now satisfies 90 percent of the world's need with 30 percent of the world's total reserves, which is not sustainable in the long term. More importantly, China exported rare earth materials at low prices for a long time due to some problems in the industry.
The environmental problems inflicted by the exploration and utilization at the early stage make regulating the industry an urgent task. In recent years, the Chinese government has strengthened control over the production and export of rare earth materials in an attempt to sustain the industry. No one is entitled to criticize China over this because this is an affair absolutely within China's sovereignty. [Full story]
What's the rare earth war all about?
As criticism of its yuan policy temporarily subsides, China is facing a war on a new front: Rare earth metals.
Led by the US Government Accountability Office, voices from the US media and industry recently attacked China's rare earth policies, claiming that the nation's control of rare earth metals, critical in making things from advanced weaponry to hybrid cars, threatened its key industries such as defense. [Full story]
More stories
* Regulate rare earth industry
* Rare earth elements undervalued



Chinalco to invest 10b yuan in rare earth sector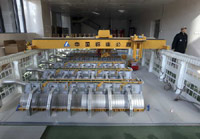 The Aluminum Corporation of China (Chinalco), the country's top mining company, said it has signed an agreement to assume a major stake in the Jiangxi Rare Earth and Rare Metals Tungsten Group (JXTC) for 10 billion yuan ($1.5 billion).[Full story]
Baotou Steel keen on cornering rare earth market
Inner Mongolia's Baotou Steel Rare-Earth (Group) Hi-Tech Co, the major producer of the minerals in the north, has planned to expand its presence in the south by investing 232.4 million yuan ($34.3 million) in three local rare earths firms in Jiangxi province's Ganzhou city. [Full story]
Minmetals on a rare earth trail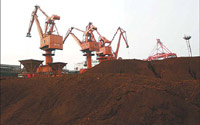 China Minmetals Corp is planning to invest 1 billion yuan ($148 million) for rare earth processing projects in Ganzhou city of Jiangxi province over the next two years to gain mining rights for the valuable resources. [Full story]
More stories
* 'Bigger say' set on rare earths market
* Chinalco steps up drive for rare earths
* Baotou Steel Rare Earth net profit up by 627% in H1
* Posco acquires Chinese rare earth firm
* China's Baotou Steel Rare-Earth Corp '09 profit declines

What are rare earths?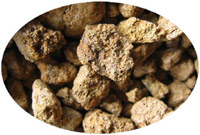 Rare earth elements or rare earth metals are a collection of seventeen chemical elements in the periodic table, namely scandium, yttrium, and the fifteen lanthanides.
Rare earths are widely employed in manufacturing sophisticated products including flat-screen monitors, electric car batteries, wind turbines, missiles and aerospace alloys. However, mining the metals is very damaging to the environment.
Which countries produce most rare earths?
Until 1948, most of the world's rare earths were sourced from placer sand deposits in India and Brazil. Through the 1950s, South Africa took the status as the world's rare earth source, after large veins of rare earth bearing monazite were discovered there. Through the 1960s until the 1980s, the Mountain Pass rare earth mine in California was the leading producer.
Today, the Indian and South African deposits still produce some rare earth concentrates, but they are dwarfed by the scale of Chinese production. China now produces over 97 percent of the world's rare earth supply, mostly in Inner Mongolia, even though it has only 37 percent of proven reserves. All of the world's heavy rare earths (such as dysprosium) come from Chinese rare earth sources. (Source: Wikipedia)