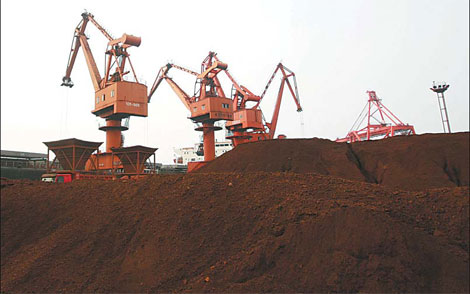 Rare earth being loaded onto a ship for export at Lianyungang port in Jiangsu province. [Tian Sheng / for China Daily]


Metals trader to invest 1b yuan in Jiangxi over next two years
BEIJING - China Minmetals Corp is planning to invest 1 billion yuan ($148 million) for rare earth processing projects in Ganzhou city of Jiangxi province over the next two years to gain mining rights for the valuable resources.
"The nation's largest metals trader has been eyeing rare earth mines for some time now. The move is also in line with the local government's requirements for rare earth miners," said official sources.
According to a document issued by the Ganzhou municipal government in 2008, a company that invests more than 1 billion yuan in the city over three to five years is eligibal for local mining rights.
However, Minmetals' proposal still needs to be cleared formally by the local government, the sources said.
He Jinglin, Minmetal's media manager, said he could not comment on the matter, as he was not aware of the same.
"Minmetals does not own any rare earth mines and that has hampered it in its quest to boost resources in the south. At the same time the company also has ambitious plans to be present across the complete industry chain," said Liu Minda, an analyst with Huatai Securities.
Related readings:


 China reduces rare earth export quota by 72%


 Unified pricing to buoy rare earth prices


 No quick fix for illegal rare earth hunt


 Posco acquires Chinese rare earth firm

Ganzhou owns 88 of the country's 104 mining licenses for rare earth. It has verified reserves of 2.89 million tons of ion-absorbed type rare earth elements, accounting for 40 percent of the nation as a whole, said Lin Xiaobing, a spokesperson for the Ganzhou Committee of Industry and Information Technology of Jiangxi.
China stopped issuing new mining licenses for rare earth elements, used in military weapons, electronics, and automobiles, until June 30, 2011.
State-owned Minmetals made its first strides in the resource-rich region in October 2008 by teaming up with two Ganzhou companies to establish a joint venture - China Minmetals Rare Earth Co mainly for rare earth separation.
However, Minmetals has not yet directly participated in the mining sector - the most critical part from a strategic perspective. Instead, it has only joined with Ganzhou Rare Earth Mineral Industry Co, a local government-backed entity that owns the sole mining rights in the city for rare earth exploration.
"Minmetals' quest to own sole mining rights in Ganzhou has not been accomplished yet," the officials said.
The company had earlier said it intends to spend at least 4.5 billion yuan over the next five years to explore minor metals including rare earth in Hunan province.
Minmetal's moves are also in tune with the government's plan to keep rare earth mining within the ambit of SOEs. Last month, it had identified several large State-owned miners for rare earth exploration in a bid to consolidate reserves.
China, which produces 95 percent of the world's rare earth metals, has reduced production levels for 2010 and cut export quotas by 72 percent for the second half to 7,976 metric tons to protect the minerals from being over-exploited.