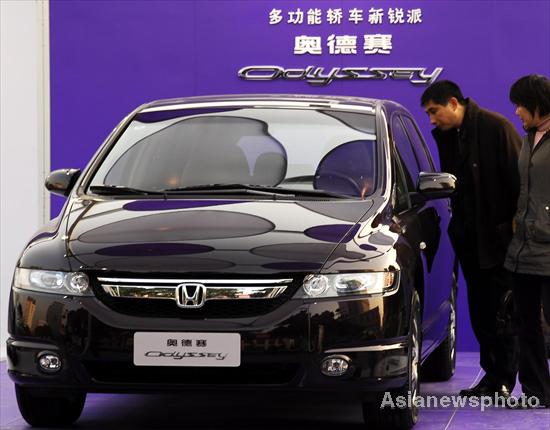 Honda Odyssey [File photo / Asianewsphoto]
BEIJING: Guangqi Honda Automobile will recall some of its Odysseys from Thursday due to a problem with the oil return tube, China's quality supervision authorities said.
The recall affects 32,650 units produced from June 22, 2009 to May 19, 2010, said a statement on the website of the General Administration of Quality Supervision, Inspection and Quarantine (AQSIQ).
The loose oil return tube may result in oil leakage and is a safety risk, the statement said.
The carmaker will check and fasten the oil return tube for free.
Owners can contact Guangqi Honda on the hotline: 400-830-8999, 800-830-8999 or contact the AQSIQ on the hotline: 010-59799616.
Guangqi Honda Automobile is a joint venture co-founded in 1998 by Guangzhou Automobile Group and Honda Motor of Japan.