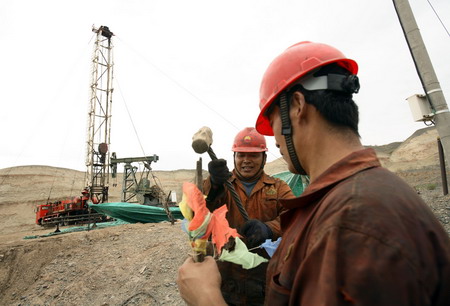 PetroChina employees work at an oil rig in the Karamay oilfield in Xinjiang Uygur autonomous region. PetroChina has 10 percent of its oil and gas production in Xinjiang. [Qilai Shen / Bloomberg News]
BEIJING - A pilot reform program to introduce a 5 percent tax on gas and oil producers in the Xinjiang Uygur autonomous region will moderately impact domestic energy companies' profits this year, said analysts.
But if the program is rolled out nationwide, it would have a profound effect on China's energy industry, they added.
Energy producers in Xinjiang have been ordered to pay a 5-percent tax on the price of oil and gas they sell. The tax went into effect on Tuesday.
China previously imposed a volume tax of up to 30 yuan per ton of crude oil sold and up to 15 yuan per 1,000 cubic meters of natural gas sold.
The pilot reform will have a relatively small impact on the country's two largest oil companies, PetroChina Co and China Petroleum & Chemical Corp (Sinopec), said Li Chen, an analyst with Guosen Securities in Shanghai.
As for the country's largest oil company PetroChina, its oil and gas production in Xinjiang accounts for 10 percent of the company's total output. Assets of the country's second largest oil company Sinopec in Xinjiang are even smaller.
Among China's three leading oil companies, China National Offshore Oil Corp (Cnooc) has not started oil and gas production in Xinjiang yet.
The 5-percent levy will reduce earnings per share of both PetroChina and Sinopec by 0.01 yuan when crude hits $70 per barrel, according to Li.
But if the tax is levied nationwide, it will reduce earnings per share of PetroChina by 0.12 yuan and Sinopec by 0.05 yuan, he added.
According to Liu Gu, an analyst with Guotai Junan Securities in Shenzhen, the tax will reduce pre-tax profits of PetroChina by 2.21 percent and Sinopec by 1.28 percent in 2010 respectively, if crude is $80 per barrel and the tax is levied from the beginning of this year.
But when the reform plan goes nationwide, pre-tax profits of PetroChina and Sinopec are expected to decrease by 12.49 percent and 7.88 percent respectively, she said.
PetroChina now has most oil and gas assets in Xinjiang. Some analysts said that the 5-percent tax rate would reduce the company's earnings per share by 4 percent between 2010 and 2012.
"I don't think it will affect them that much," said Gong Jinshuang, an analyst with the research institute of PetroChina, adding that some other moves such as price adjustments of oil products and natural gas will have a larger impact.
China on Monday raised the wholesale natural gas price by around 25 percent. "Compared with the tax reform, this has a more immediate impact on domestic oil companies' profits," said Gong.