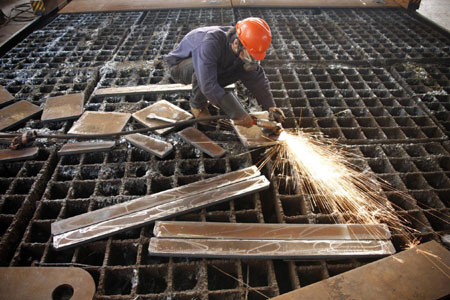 A man works on steel gratings at a steel mill in Huaibei, Anhui province. Wu He / for China Daily 
Commerce Department wants final duties of over 200% on imports
BEIJING - The US Commerce Department on Tuesday set combined final duties of up to more than 200 percent on imports of steel gratings from China.
Steel gratings are essentially two or more cross-bracing pieces and are widely used in industrial floors, docks, ramps, drainage covers, staircases, platforms, bridges, elevators and other applications.
The US move comes close on the heels of a series of trade protectionism measures adopted by the country against Chinese steel products this year. The duties are expected to dent the US export plans of domestic steelmakers with some even expecting a complete shut out.
At the recent China-US Strategic and Economic Dialogue in Beijing, top officials from both countries had agreed to resist trade protectionism and reached consensus on complying strictly with World Trade Organization (WTO) rules.
The duties have been set after the US Commerce Department conducted a year-long probe on claims that steel gratings imported from China were being sold below the market rate.
The department has set final anti-dumping duties of 136.76 to 145.18 percent on steel grating products, and a final countervailing duty of 62.46 percent to offset the subsidies provided by Chinese government.
"Although China's exports of steel gratings to the US are not large, such punitive measures will further hurt the nation's steel exports. China's steel producers are losing confidence in the American market and will shift their focus to other markets," said Yu Liangui, a senior analyst with Shanghai-based research firm Mysteel.
China's exports of steel gratings rose to $90.7 million in 2008 from $9 million in 2006, the US Commerce Department said. But exports declined to $15.3 million last year as demand from the US shrank amid the financial crisis.
Last year, many American manufacturers like Alabama Metal Industries Corp and Fisher and Ludlow sought Commerce Department intervention on the issue. The US International Trade Commission is expected to make a final determination in July on whether the duties need to be levied against Chinese companies.
This year, the US has conducted a flurry of trade remedy cases against Chinese steel producers in areas like seamless steel pipes, steel pipes used for oil wells and steel wires. The dispute involving steel pipes used for oil wells alone is believed to have impacted $2.7 billion of Chinese exports.
"Chinese steel makers are pinning little hope on the US market, and are scaling back exports," said Yu.
On Monday, the WTO said it was undertaking a three-day review of China's trade policy, the third time since its entry into the global trade organization.
Yi Xiaozhun, vice-minister of commerce, said China has been focused on its goals of reducing tariffs and fighting trade protectionism. Unfortunately, China has also been the top target and the biggest victim of trade protectionism in the last two years, he said.