Thanks to its unique location and history, Hong Kong is a melting pot of eastern and western cultures. Traditional and modern, old and new merge to create Hong Kong's distinctive culture. Following the return of Hong Kong to Chinese sovereignty, close cultural exchange and cooperation with the Mainland has resulted in the rapid evolution of Hong Kong's cultural sector.
Hong Kong's brilliance is due both to its cultural diversity and to the unique local culture that diversity gave rise to. Hong Kong's entertainment industry produces distinctive film, television, and music containing the elements we are familiar with. Residents enjoy the holiday spirit with fireworks over Victoria Harbor in the beginning of Lunar New Year, while also immersing themselves in the festive Christmas spirit at the end of the year. People rely on all kinds of modern media for business news, while at the same time poring over the wisdom of horseracing. People listen raptly to the "Silk and Bamboo" music of traditional Guangdong opera, and boogie to the disco beat in nightclubs. In Hong Kong, the most avant-garde art and the most ancient culture share the same stage. Cutting edge supermodels and mysterious masters of fengshui all have their devoted followers. Taoists, Buddhists, Christians, and Muslims, all can find places to worship. In Hong Kong, the diverse culture has reached its ultimate expression. All of these are the Hong Kong culture.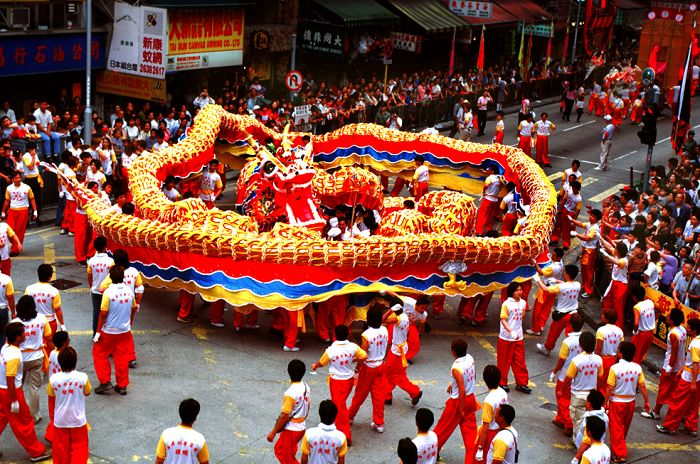 Dragon dance
Hong Kong is a city that combines eastern and western culture. Despite the deep impact of foreign cultural influences, traditional Chinese culture still thrives in Hong Kong.