By Matt P. Jager (thatsbj.com)
Updated: 2008-05-09 09:13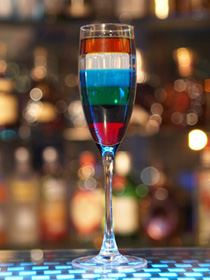 The morning after, it was a hazy memory, somewhere between my dreams and imagination. There I was, enjoying an RMB 20 Tsingtao in an elevated seating area, with my pal stoically bobbing at the edge of the table, rising and sinking like the rodent from a stoned Whac-A-Mole carnival game.
I needed a sober fact-checking visit before I could confirm that Hong is definitely the only bar on Nanluogu Xiang that features hydraulic lifts to propel patrons and waitstaff to meter-high booths. After extensive experimentation, I can assure you that the lifts are sturdy things, managing the drunkest of drunken horseplay without a complaining creak.
Hong breaks the rustic backpacker cafe mold of most of the nightspots in Beijing's hippest hutong. The threshold looks like Star Trek meets Old Beijing. It leads into a sleek lounge with canvas-colored sofas and dark wood tables. Metal carvings of alley life are set into the walls in stark red and black. Hong's management boasts that it offers the best wine selection in the hutong.
Merlots, Cabernet Sauvignons, and other domestic and international wines go for RMB 220-260 a bottle. Late night, Hong's classy interior echoes with the rattle of dice.
Hong
Daily 4pm-late.
74 Nanluogu Xiang, Dongcheng District
64072116