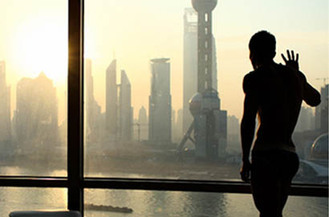 Always one to suckle shamelessly from the ample teat of faux expat journalism, I found myself at Attica couple of months ago, voraciously knocking back free Mumm champagne at a delightful little invite-only fashion showfor the Golden Point Italian lingerie chain. Or was it Moet? No matter. De rien.There I was, slouching in the front row, studying the models through the bubby fizz -- getting the scoop, as it were -- when my mind began to wander onto the usual fodder that vexes the expat psyche in Shanghers.
Notions like, "what an abhorrent sandwich that was at lunch today" and "what lie can I tell my ayi so that I can fire her without feeling guilty," eventually gave way to the old standard: "what piece of shit can I import to China so that I can sell it and make one million RMBs and never have to work again."
I was snapped out of my boozy scheming at the conclusion of the fashion show, when it was announced that the designer was, in the near future, importing a line of men's undergarments to complement their women's lines. Men's undergarments? Men's intimates?Now for my entire 23 years I've been relying on my mother to purchase my underwear and, as fashionably inclined as she is, my mum always opted for boxer shorts that were non-descript and underwhelming -- loose fitting and billowy plaids and stripes from Sears and Wal-mart, and so on -- and I seem to remember a particularly resilient pair of Quebec Nordiques boxers in the mix as well.
I sat up startled in my velvet chair at Attica, spitting my champagne on my faux Armani shirt and angrily summoning the waiter for another. Men's unmentionables exist and are available for purchase? Why have I been draping myself in these appallingly unimaginative proletarian fashions lo these many years? Shifting weight in my impoverished fabric, I was incensed to say the least. What a great and modern and Shanghai-kind of idea.