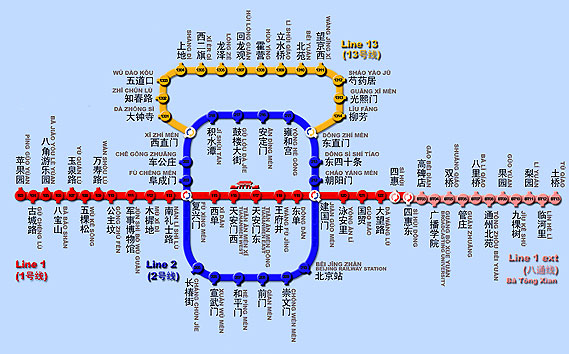 With heightened awareness of global warming and the call for individuals to reduce their "carbon footprint", there is no better time to use public transport around Beijing.
Clean and efficient, the intricate network of buses and subways will take you almost anywhere around the city.
For those with limited Putonghua (Mandarin), this can be a struggle. Bus timetables are written only in Chinese making it nearly impossible to figure out which bus to take where.
The subway system on the other hand is manageable and in fact a must-do if you want to see how the locals really get around.
All the maps in the subway system are in Chinese but most tourist guides include details of subway stops. Each station is clearly marked in pinyin and once you're on the subway, the next stop is announced in Chinese and English.
Currently, the city has three major subway lines now.
Line One runs horizontally across the city, running past such destinations as the People's Liberation Army Military Museum, Tian'anmen Square and the Silk Market.
Line Two is a loop that goes around the city core and intersects with Line One at two different stops. Points of interest on this line include, The Lama temple, the Drum and Bell Tower, and Xizhi men stop puts you within a 7-yuan pedicab ride to the Beijing Zoo.
Tickets for the subway can be purchased at each station for a meager 3 yuan and when transferring between Line One and Two there is no need to purchase a new ticket.
A few pointers for the subway novice:
Getting a seat: If you ever won the game "musical chairs" as a kid, you will be a natural at trying to grab a seat on the subway. The minute you see someone motioning to get up, dart to where they are and proceed to hover above them. Then let the games begin as some 20 other people attempt to fend you off for the same seat.
Getting off the Subway: It may seem straightforward, but getting out of the train is not easy when you are crammed at the furthest point from the door and 20 people are pushing their way onto the car before anyone has had the chance to get off. Position yourself near the door when your stop is coming.
Hydrate: Make sure you carry a big bottle of water with you as it can be hot during summer.
Enjoy: If you get on the right carriage, you might be lucky enough to see a busker, an animal and someone snoring.